Teletherapy Reinforcement Activities Digital PDF for Speech Therapy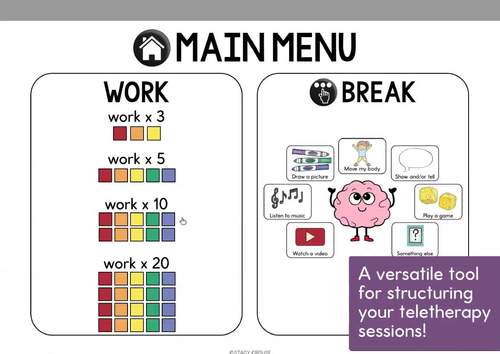 ;
What educators are saying
My students look forward to using these Brain Break Activities. I love the convenience of the pdf that makes it easy to switch between activities!
Stacey is a genius! These work so well for digital therapy. Once I see the student is fading or losing engagement, we pop onto a brain break. Works for great for the therapist too! :)
Description
Are you looking to add some STRUCTURE to your teletherapy sessions? This versatile PDF gives you the FLEXIBILITY to target any speech therapy goal, while keeping your students active and engaged with their choice of activities and reinforcement!
This easy-to-use tool provides telepractice SLPs a way to:
✅ utilize VISUALS and MOTIVATE students to complete tasks and trials
✅ make smooth TRANSITIONS between activities
✅ give students CHOICES of reinforcement
✅ ELICICT LANGUAGE for choice-making
✅ incorperate SENSORY BREAKS throughout teletherapy sessions
✅ PACE sessions to be productive yet FUN!
Streamline speech therapy sessions by establishing a routine for goal work and breaks. First, CLICK the CHECK BOXES as the student completes 3, 5, 10, or 20 trials. Then allow the student to choose from 6 high-interest and teletherapy-friendly activities. The CLICKABLE BUTTONS allow you to seamlessly navigate throughout the resource with no time wasted.
You'll be able to incorporate any student's specific interests using break choices, such as watching a funny video clip or listening to a favorite song. You can utilize this open-ended tool with any website or game that motivates your speech therapy students.
You can also incorporate physical movement using the variety of exercises, with visuals for each one. This is a great way to give teletherapy students a chance to stretch and move around a bit.
To use in teletherapy sessions:
Open the PDF in Adobe Reader (which is free and you can read more about it HERE).
Screen share the PDF reader window.
No remote mouse control is needed for the student!
This resource is a great way to bring structure, consistency, and predictability to your teletherapy sessions. It gives students the opportunity to do their favorite activities while allowing SLPs to target any speech or language goal.
Report this resource to TPT