Telling Time to the Hour and Half Hour St. Patrick's Day Boom Cards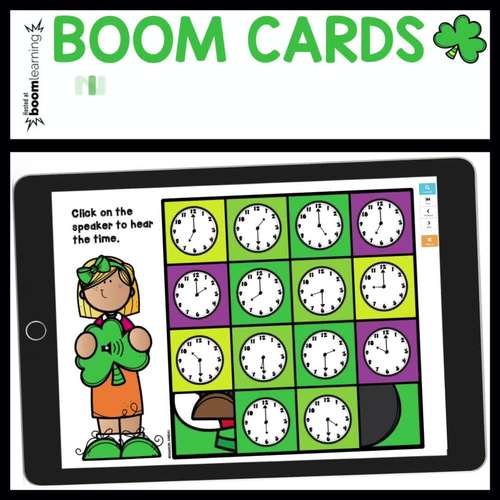 ;
Compatible with Digital Devices
The Teacher-Author has indicated that this resource can be used for device-based learning.
Description
Do your students need some extra practice with Telling Time to the hour and half hour? This St. Patrick's Day themed Hidden Picture Boom Deck is a fun way to practice these skills. This is a self-checking, interactive resource. Check out the video to see if this will work for you! :)
WHY BOOM?
If you are looking for a fun way to incorporate technology into your classroom, BOOM CARDS are the way to go! These are self-checking, interactive, and the STUDENTS LOVE THEM!!! Can also be used for Distance Learning.
HOW TO USE...
Would you like to take a quick mini-course (free) on the ins and outs of Boom. If so, CLICK HERE TO ENROLL. YOU WON'T BE DISAPPOINTED!
OTHER RESOURCES:
SEE IT IN ACTION:
PLEASE READ BELOW TO SEE HOW THEY WORK AND TO CHECK IT OUT!
WHAT IS IT?
IT'S A DIGITAL TASK CARD! Are you trying to go 1:1 in your classroom? Do you have devices, but not always sure how to keep your kiddos engaged with relevant material? Well, look no further - BOOM Cards are so COOL and you don't have to do a thing! Cards are randomized automatically... Meaning - each time your kiddos play it will be in a different order! When the student picks an answer, it either circles it green and says "Correct", or circles it red and says "Wrong Answer". It automatically goes to the next slide, and has many more cool features!
TRY BEFORE YOU BUY!
Click here to try one of my FREEBIES
Please READ BELOW to understand how Boom Cards work! This purchase will give you a PDF that will lead you to the Boom Learning platform. ⭐ THIS IS A DIGITAL RESOURCE, PLEASE TAKE THE TIME TO READ BELOW ABOUT THIS PRODUCT, AND CLICK ON THE FREEBIE TO SEE IF THIS IS SOMETHING THAT WILL WORK FOR YOU!
WHAT IS NEEDED:
To use Boom Cards, you must be connected to the Internet. Boom Cards play on modern browsers (Chrome, Safari, Firefox, and Edge). Apps are available for Android, iPads, iPhones, and Kindle Fires. For security and privacy, adults must have a Boom Learning account to use and assign Boom Cards. You will be able to assign the Boom Cards you are buying with "Fast Pins," (play provides instant feedback for self-grading Boom Cards). Fast Play is always a free way for students to engage with Boom Cards decks. For additional assignment options you'll need a premium account. If you are new to Boom Learning, you will be offered a free trial of our premium account. Read here for details: http://bit.ly/BoomTrial.
You may be eligible for a free trial from Boom Learning. Read here for details: http://bit.ly/BoomTrial. If you choose not to stay on a premium account after your free trial, you will still be able to assign all your Boom Cards to as many students as you see fit using Fast Play pins (which give instant feedback for decks that are self-grading).
QUESTIONS OR CONCERNS
Email me at scjuneau@yahoo.com if you have any questions or concerns about this product. If you are not sure that this product will work for you, please check out one of the freebies. Keep in mind that the preview shows you what the game is going to look like.
WHO LIKES A DEAL?
Thank you for visiting my store! Please contact me if you have any questions!
I SURE APPRECIATE YOU!
Shanon Juneau ❤️
#stpatricksdayactivities
Teaching Duration
Lifelong tool
Report this resource to TPT
Standards
to see state-specific standards (only available in the US).
Tell and write time in hours and half-hours using analog and digital clocks.