Text Exemplars | Mentor Writing Texts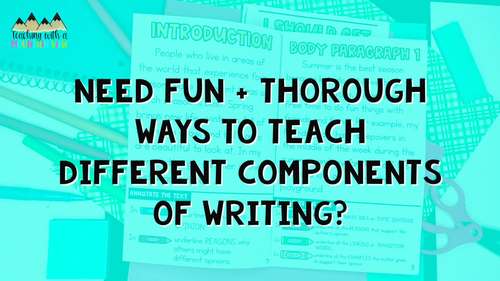 ;
Includes Google Apps™
This bundle contains one or more resources with Google apps (e.g. docs, slides, etc.).
What educators are saying
These are amazing! Every resource I've purchased from this shop is worth the price! I love it and my kids love it
Before writing, I always like to show students examples of what I'm looking for. This was a clear and helpful resource.
Products in this Bundle (4)
Description
Using text exemplars as mentor texts to help students identify specific parts of writing will be a game-changer in your instruction! Every time I teach a specific component of writing -- whether it is developing the plot in a narrative or creating the topic sentence in an informational text -- I end up writing my own example as a mentor text for students to dissect.
After doing this for years, this incredible set of mentor texts was designed specifically to help you teach students about specific parts of writing. I have provided a model text, annotation guides and questions, and components that will help your students clearly identify and emulate the important parts of writing.
This resource includes NINE mentor texts to be used as exemplar models for students:
Each of the six genre-specific texts includes:
A mini anchor chart with components of the specific type of writing

Example: Introduction, Body, Conclusion, Transition Words, Topic Sentences, etc.

One-page versions of the text only
Two-page versions of the text specifically for annotating 
Four pages of practice with the text broken down into sections with annotation guides and questions
A one-page backwards plan guide for students to recreate a plan that the author may have used to plan his or her writing
A rubric for students to "grade" the text
A double-sided booklet option with annotation notes only
Answer Key
Digital Access in Google Slides
This resource is perfect to use as you introduce new genres of writing. I highly recommend placing these exemplars in a writing binder for easy access all year long!
Report this resource to TPT
Standards
to see state-specific standards (only available in the US).
Write opinion pieces on topics or texts, supporting a point of view with reasons.
Write informative/explanatory texts to examine a topic and convey ideas and information clearly.
Write narratives to develop real or imagined experiences or events using effective technique, descriptive details, and clear event sequences.
With guidance and support from adults, produce writing in which the development and organization are appropriate to task and purpose.
With guidance and support from peers and adults, develop and strengthen writing as needed by planning, revising, and editing.