Text Features Lesson Plans with Activities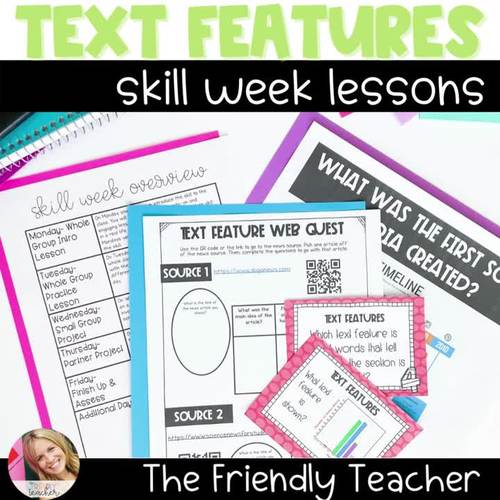 ;
What educators are saying
I've bought a couple of these units and they are very well put together. I love how all the suggested texts are included.
I love all of these skills week lesson plans. I should have bought the bundle but will continue to buy them separately. Great resource and easy to implement!
Also included in
Do you want your students to fully comprehend all of the reading skills that are taught for reading comprehension? This 17 unit bundle teaches each reading skill completely through engaging and rigorous lesson plans. This bundle includes 17 full-week units with whole group and small group lesson pla

Price $45.75

Original Price $91.25

Save $45.50
Description
A weeks worth of engaging lesson plans to teach students how to find text features, analyze them, and determine how they help them understand nonfiction texts. These lesson plans are designed to be low prep for the teacher, but keep your kids engaged and challenged the entire week!
There is a whole group and a small group lesson for each day, so that you can differentiate and reach each learner.
All the materials are provided, besides books. All the lessons are engaging, low prep, and rigorous for your upper elementary students.
Why these lessons?
- I saw that my students needed more engagement and relation to their real life in order to fully understand the skills, so I created these lessons to keep kids excited and involved the whole time.
- We start with a real life lesson, then practice as a whole group, work in a small group, work in partners, and finally work alone. We start with support on the skill and slowly take it away to really push the kiddos.
The lessons keep kids thinking the entire time and push them to reach their potential.
- These lessons just need to be printed, copied, and they are ready to go! Most activities require little work beforehand for the teacher which makes a teachers busy life easier!
The lessons include:
Monday- Students will be looking at nonfiction books for similarities. Then, you will do a text features PowerPoint. Lastly, you will read , "Alligators and Crocodiles" by Gail Gibbons which is on EPIC for FREE and play a game of iSpy. Then, they have a reading interactive to do with the book.
Tuesday-Students will do a warm up with a few text features and questions. Then, they have to look at NationalGeographic Reader called, "Water" which can be found for free on EPIC without reading it and use the text features to answer questions.
Wednesday- Students will learn a text feature rap and then use either an EPIC collection or nonfiction books to go on a text feature scavenger hunt.
Thursday: As a class you will analyze a news article for text features. Then, the students will go on a web quest where they will look at four different news sites for articles and text features.
Friday- Read "What's on the Food Chain Menu?" found on EPIC and do an interactive. Then, there are 24 tasks cards for students to complete how you see fit. Give the assessment.
There is one small group lesson per day. You can do this with every group or just do the lessons you think the groups need. You differentiate them by what books you choose.
Monday: Students will look through magazines for text features.
Tuesday: Students will analyze text features from yesterday.
Wednesday: Students will read a Dinosaur mini reader.
Thursday: Students will reread or read another mini reader and do an interactive worksheet.
Friday: Students will play text feature bingo.
What others are saying:
Jessica V.- "These weekly lesson plans are awesome! Engaging activities and all laid out for you!"
Alison Y.- "I love how the units are organized, very easy to use. Also great tech integration."
Shannon K.- "My students had a great time with these activities and it made my planning so much easier! Thanks for great resources!"
Other AMAZING products you may need:

Find Other Skill Week Packs Here!!
By clicking this link you can follow along with The Friendly Teacher! You will get to know when a new product is posted, which is 50% off for the first 24 hours!
Report this resource to TPT
Standards
to see state-specific standards (only available in the US).
Ask and answer questions to demonstrate understanding of a text, referring explicitly to the text as the basis for the answers.
Use text features and search tools (e.g., key words, sidebars, hyperlinks) to locate information relevant to a given topic efficiently.
Use information gained from illustrations (e.g., maps, photographs) and the words in a text to demonstrate understanding of the text (e.g., where, when, why, and how key events occur).
Refer to details and examples in a text when explaining what the text says explicitly and when drawing inferences from the text.
Interpret information presented visually, orally, or quantitatively (e.g., in charts, graphs, diagrams, time lines, animations, or interactive elements on Web pages) and explain how the information contributes to an understanding of the text in which it appears.