Text Message Conversations No Print Social Language Phone Activity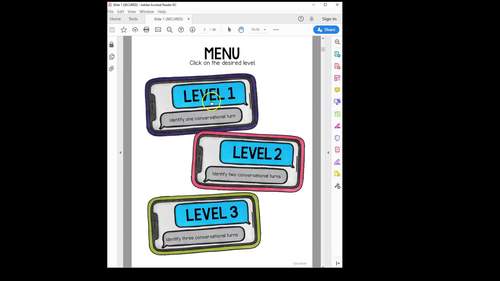 ;
Easel Activity Included
This resource includes a ready-to-use interactive activity students can complete on any device. 
Easel by TPT is free to use!
Learn more
.
What educators are saying
My students found this to be such an engaging activity! What a great idea for a social language activity!
I love the text message format of this activity. Made it more relatable and 'cool' to my older kids. :)
Description
Finding functional social language resources for older students can be challenging. This resource uses something most older students are very familiar with- text messaging- to target conversational turns.
This resource contains:
A brief, one-page lesson/visual for how to respond in conversations (comment, question, answer)
3 levels of practice for a total of 60 text message scenarios.
The PRINTABLE PDF is black-line only (no color ink) and works great to use in face-to-face sessions or to send as homework. There are 4 scenarios per page, for a total of 15 usable pages. Students can write their responses on the lines or say them aloud.
The NO PRINT PDF is a full-color resource with clickable navigation and fillable text boxes for responses. Each page has one scenario (for a total of 60 pages), making it a great activity to use on a PDF reader app on a tablet, teletherapy platform, computer, or interactive whiteboard.
EASEL Activity (Learn more here!)
For more information on using interactive PDFs (such as this resource) in speech therapy, check out these FREE resources:
Using Interactive PDF Resources In Speech Therapy
Crash Course: Using Interactive PDFs in Speech Therapy No Print Teletherapy
Interactive PDF Quick Start Guide FREEBIE
For more social language activities, see:
Understanding Social Situations Pragmatic Language Activity
Social Acts Conversation Scripts
Reading Emotion and Responding in Social Situations
Taking Turns in Conversation: Questions and Comments
Using Body Language to Identify Emotion
Build The Emotion BOOM CARDS™ Activity for Facial Expressions
Keeping The Conversation Balanced: A Mini Unit
Report this resource to TPT