Thanksgiving Activities Bundle for Middle School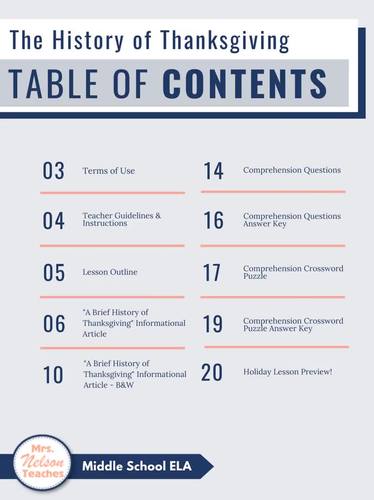 ;
Products in this Bundle (4)
Description
Searching for Thanksgiving Activities for Middle School Students? These Thanksgiving-themed resources are standards-based and are the perfect activities and assignments to engage students in learning during the holiday season!
Through the included activities and printable worksheets, students will practice multiple ELA skills, including reading multiple informational texts, writing narrative and procedural texts, class presentations, following directions, and more!
The best part? Minimal Teacher Preparation is Required! Most activities are Print & Go activities!
Choose the bundle and on these Thanksgiving Resources!
What Resources are Included in the Thanksgiving Bundle?
- An informational article (based on primary resources) about the history and origins of the holiday is included, along with comprehension questions and a crossword puzzle.
- Students will practice their narrative writing skills as they engage in the writing process and reflect upon an individual for whom they are grateful.
- Students will learn the elements and features of procedural texts and will read and write many examples! Many FUN Thanksgiving-themed activities are included!
- After reading an informational article on the positive benefits of a daily gratitude practice, students will learn the lost art of writing thank-you notes!
(Full product descriptions are below.)
1.
Searching for Thanksgiving Activities for Middle School ELA? This History of Thanksgiving PDF is the perfect reading to help your Language Arts students understand the facts of the complicated history of the Thanksgiving Holiday. The best part? There is NO-PREP required for teachers! Simply Print & Go! Save yourself time and stress the week of Thanksgiving!
Included in this resource is a four-page informational article, "A Brief History of Thanksgiving," that is based on facts from primary sources. Students will learn the full picture of historical events surrounding the famous feast of 1621.
Multiple students assignments are included with answer keys! Comprehension questions as well as a crossword puzzle that can be completed with details from the article.
What's Included in "A History of Thanksgiving" Activities?
Four-page Informational Article "A Brief History of Thanksgiving"
Comprehension Questions based on Article
Crossword Puzzle
Answer Keys!
Lesson Outline for Teacher
Teacher Guidelines and Instructions
2.
Looking for Thanksgiving Activities to use with your Middle School Students? These printable worksheets include a Thanksgiving writing prompt that will help your students engage in ELA curriculum while expressing their gratitude for someone in their lives!
This No-Prep, Print & Go Thanksgiving Writing Activity includes a Gratitude Essay Assignment Sheet, Pre-Writing Assignment, Gratitude Writing Paper, a Sample Essay for students to model, and a Grading Rubric!
What's Included in Thanksgiving Writing Activity?
Teacher Guidelines and Instructions
Basic Lesson Outline
Gratitude Essay Writing Assignment Sheet
Gratitude Essay Pre-Writing Assignment Sheet
Gratitude Essay Writing Paper
Gratitude Essay Model
Gratitude Essay Grading Rubric
3.
Looking for Thanksgiving Activities to use with your Middle School Students? These printable resources include FUN Thanksgiving Activities and Assignments that will teach your students how to read and write Procedural Texts! These worksheets are an easy, low-prep way to keep your students engaged in learning in the days leading up to Thanksgiving!
This resource included a fun introductory/hook origami assignment, over 30 Instructional Slides that teach students the features and characteristics of Procedural Texts, a Thanksgiving Procedural Text Writing Assignment, and a fun Procedural Text Extension Activity.
Students are provided with examples and definitions of procedural texts and instructions on how to compose their own "how to" writing. A graphic organizer is included to help students plan their writing!
What's Included in Thanksgiving Writing Activity?
Teacher Guidelines and Instructions
Basic Lesson Outlines for Each Activity (4)
Introductory/Hook Activity for Procedural Texts
30+ Instructional Slides Teaching Elements of Procedural Texts
Procedural Text Writing Assignment Sheet
Procedural Text Pre-Writing Sheet
Procedural Text Writing Paper
Procedural Text Assignment Grading Rubric
Extention Activity: Reading Procedural Texts
4.
Teaching your students the lost art and courtesy of writing thank you notes the week before Thanksgiving is the perfect activity to keep your students engaged during those few days before Fall Break!
Included in this product is an informational article that discusses how and why we should continue to write thank you cards. The article also discusses the health benefits of incorporating a daily gratitude practice into our lives--there are a lot!
Examples of thank you notes are included to model for your students what is expected. Also included are premade templates for thank you cards that you can print for your students to write their own thank you cards. A Grading Rubric is included! Bonus points if they actually deliver them! :)
Students could possibly write notes to local healthcare workers or other frontline essential workers (including teachers!) to thank them for their service during these difficult times!
Answer Key
Included with rubric
Teaching Duration
2 Weeks
Report this resource to TPT
Standards
to see state-specific standards (only available in the US).
Read closely to determine what the text says explicitly and to make logical inferences from it; cite specific textual evidence when writing or speaking to support conclusions drawn from the text.
Determine central ideas or themes of a text and analyze their development; summarize the key supporting details and ideas.
Analyze how and why individuals, events, and ideas develop and interact over the course of a text.
Analyze the structure of texts, including how specific sentences, paragraphs, and larger portions of the text (e.g., a section, chapter, scene, or stanza) relate to each other and the whole.
Delineate and evaluate the argument and specific claims in a text, including the validity of the reasoning as well as the relevance and sufficiency of the evidence.