Thanksgiving Alphabet Letters Boom Cards Uppercase & Lowercase Letter Matching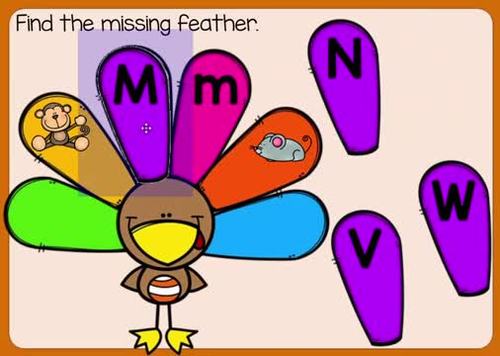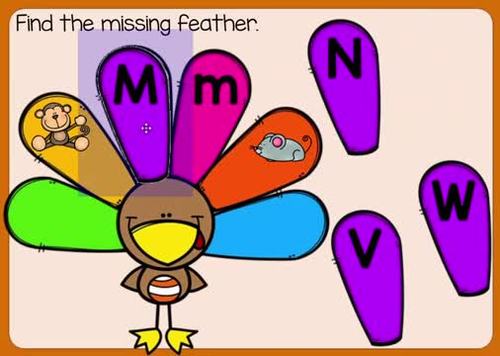 Created By
Lessons for Little Ones by Tina O'Block
File Type
PDF
(
181 KB
|
26 Boom Cards + PDF file
)
Also included in:
This money-saving bundle includes 2 festive digital Thanksgiving Boom Card decks that provide fun ways to practice matching uppercase and lowercase alphabet letters and beginning sounds / letter sounds.Students enjoy the interactive nature of the cards and these Boom cards are NO PREP (no printing,
Product Description
These festive digital Thanksgiving turkey Boom Cards are a fun, engaging way for students to practice matching uppercase and lowercase alphabet letters.
Students enjoy the interactive nature of the cards and these Boom cards are NO PREP (no printing, cutting, or laminating) making it easy for you. Students simply access the Boom card deck on a laptop, desktop, iPad, smartphone, tablet, or interactive whiteboard and complete the alphabet digital cards.
Students drag and drop the correct missing feather to the turkey. The missing feathers vary, so they will get practice finding and matching both uppercase and lowercase letters. There are also feathers with pictures for beginning sounds / initial sounds practice.
These cards are self-checking so students receive immediate feedback which is very motivating.
Please see the preview file for a playable sample.
This Thanksgiving deck has 26 cards (one for each letter of the alphabet) that show in random order so each play of the deck is different alleviating boredom.
Practices common core standard RF.K.1.D
Perfect for small group or whole group instruction, math centers, Thanksgiving party stations, assessment, morning work, extra practice, etc!
What are Boom Cards?
Boom Cards are interactive, self-checking digital task cards that require NO PREP (no printing, cutting, or laminating required)!
They offer an easy way for teachers to assess important skills and a fun way for students to practice these skills.
They are perfect for whole group instruction on an interactive whiteboard or small group instruction, center activities, individual practice on an iPad, laptop, desktop, tablet, or smartphone.
New to Boom? Boom Cards live in the cloud. They can't be printed. They play on most modern browsers, Android, iPads, iPhones, and Kindle Fires.
When you redeem your purchase, you open a Boom Learning account to play the cards (they are played on Boom to protect the children). You create Fast Play pins to assign your Boom Cards to students.
Boom Learning also has premium accounts. Premium accounts offer advanced assignment tools, individual and whole class performance tracking, and more. If you are a new Boom Learning customer, when you redeem your Boom Cards purchase you get a 90-day free trial of a premium account. When your trial ends, you can renew or move to a free account. You may upgrade, downgrade or cancel at any time. Free accounts use purchased Boom Cards with Fast Play pins.
If you do not subscribe at the end of your trial, you will be able to continue using Boom Cards with the Fast Play feature. Fast Play does not track individual progress.
Boom Cards play on modern browsers (released in the last three years) on interactive whiteboards, computers and tablets. Boom Cards apps are also available. Not sure if your browser is modern enough? Try a free Boom Cards deck first.
You may also like:
Thanksgiving Alphabet Letters & Letter Sounds (Phonics) Boom Cards Bundle
Thanksgiving Number Sense Boom Cards Numbers, Tally Marks, 10 Frames, Subitizing
Thanksgiving Turkey Addition to 10 Digital Boom Cards
Digital Number Sense Candy Corn Puzzles Boom Cards (Numbers 1-20)
Literacy (Alphabet) Math (Numbers to 20) Boom Cards Bundle Fall Pumpkins
Thanksgiving Sensory Bin Math & Literacy Activities, Centers
****************************************************************************************************
Be the first to know about new discounts, freebies and product launches:
• CLICK HERE to become a follower.
****************************************************************************************************
Report this Resource to TpT