Thanksgiving Escape Room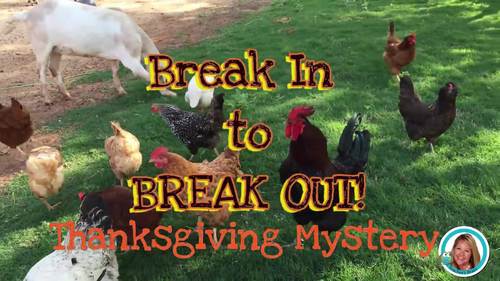 ;
What educators are saying
I used this during our Thanksgiving rotation of classes. Every group of kids was engaged and loved the activity! Thank you!
This was so much fun! I used it for both second grade reading blocks. I will continue to use this resource!
Also included in
Are you ready to be the most memorable teacher in a child's life? Use these holiday themed Escape Rooms to guarantee student engagement while they learn and solve a classroom mystery. With little prep, your students will work as a team to break into a box, which breaks them out of the classroom as

Price $27.00

Original Price $30.00

Save $3.00
Learning Objective
Students will practice teamwork skills while solving clues to help reinforce comprehension skills.
Description
Are you ready to be the most memorable teacher of a child's life this fall season? Use these step-by-step instructions to guarantee student engagement while they learn about how to work as a team to solve a mystery, practice comprehension and ESCAPE THE CLASSROOM! With a little prep, your students will work as a team to break into a box, which breaks them out of the classroom as they beat the clock!
What's inside this download?
Pg. 1 Cover
Pg. 2 Table of Contents
Pg. 3 Directions (with video link)
Pg. 4 Materials Needed to Set Up
Pg. 5 Checklist for Set Up
Pg. 6 (Motivational Paragraph, and put class in two groups)
Pg. 7 Clue 1 (To read after the pg.6 and video)
Pg. 8 Pirates Map (cut into 4 pieces), You will need two copies of this.
Pg. 9 Bag Labels for Team 1 (Foxes) Red
Pg. 10 Bag Labels for Team 2 (Bears) Blue
Pg. 11 Mayflower Comprehension Check - CLUE 2
Pg. 12 Mayflower Voyage Comprehension Page
Pg. 13 Labels for Comprehension Clue Folders
Pg. 14 CLUE 3 Corn Maze
Pg. 15 Corn Maze Escape
Pg. 16 Corn Maze Labels for Folders
Pg. 17 Key for Team 1 (FOXES)
Pg. 18 Key for Team 2 (BEARS)
Pg. 19 Help Button Cards
Pg. 20 Homework Passes (optional prize)
Pg. 21 Book Markers (optional prize)
Pg. 22 Letter From Tom (Optional for Box)
Pg. 23 Certificate for Completion
Pg. 24-25 Pictures of Set Up
Pg. 26-28 Answer Keys
Pg. 29-30 Credits
Check out the Preview
There is a PDF file with step-by-step instructions, a link to incorporate a YouTube Video to HOOK your students into accepting a mission to find some popcorn to bribe Tom Turkey to let us out of the classroom. The mystery can only be solved by working through mystery challenges and using teamwork. Opening the box, (no locks needed) leads them to finding the microwavable popcorn and escaping the classroom to enjoy recess or a library break outside of the classroom. Ideas are included.
This escape room is NOT EDITABLE.
Made with 1st-3rd Grade students in mind!
There are 3 Tasks for the students to solve before they can break free. About 40 min. to prep and plan about 45 minutes to solve all the mystery clues.
MATERIALS YOU NEED TO ADD: a box , some surprise to put in the box (homework passes and bookmarks are provided), pencils, 4 large file folders (or regular folders), 8 plastic bags, POPCORN (microwavable... they can eat it for an escape celebration or just give it too the teacher if there are food allergy concern because you need to pay Tom the Turkey.
(Any box will do... no need for locks unless you want them!)
Check out the PREVIEW!
Students will learn:
⏳ Teamwork Skills
⏳ Word Work
⏳ Problem Solving Skills
⏳ Following Directions
⭐This is a great Thanksgiving ACTIVITY!⭐
Related Products
☀️ Escape Room Sight Word Mystery Video Tutorial
Check these other awesome products out:
❀Reading Comprehension Yearlong Program
READING CURRICULUM MEGA BUNDLE
Science BUNDLE for the WHOLE YEAR 11 Units K-1
**********************************************
Copyright © 2019 Teacher's Brain
All rights reserved by author.
How to get TPT credit to use on future purchases:
• Please go to your My Purchases page (you may need to login). Beside each purchase you'll see a Provide Feedback button. Simply click it and you will be taken to a page where you can give a quick rating and leave a short comment for the product. Each time you give feedback, TPT gives you feedback credits that you use to lower the cost of your future purchases. I value your feedback greatly as it helps me determine which products are most valuable for your classroom so I can create more for you. ☺
Be the first to know about my new discounts, freebies and product launches:
• Look for the green star next to my store logo and click it to become a follower. Voila! You will now receive email updates about this store.
☺ First 24 HOURS of new products over $1 are ½ off!
➤Follow my Teacher's Brain BLOG
Teaching Duration
45 minutes
Report this resource to TPT
Standards
to see state-specific standards (only available in the US).
Read and comprehend complex literary and informational texts independently and proficiently.