Thanksgiving Math Game for Kindergarten Activities 2D and 3D Shapes PowerPoint™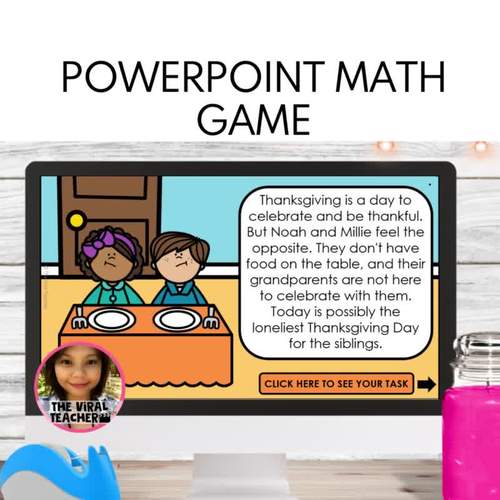 ;
50 slides + editable PPT file + a guide to playing the game
Description
Are you looking for a fun, educational, and interactive math game for your kindergarten students this Thanksgiving? You've come to the right place! Your students will LOVE this PowerPoint game that focuses on identifying and describing 2D and 3D shapes. The math topics included are Common Core aligned.
Reasons why you need this product:
It's a time saver. Just click on the PPT file, and the game will automatically open in slideshow mode. No print! No prep!
Set up four teams or play with the whole class for math review.
An editable PPT file is included, so you can add your questions or other skills your students need more practice on.
**Please check the PREVIEW/VIDEO PREVIEW before purchasing.**
Background: Noah and Millie have only one wish: to have food on the table and have their grandparents with them for Thanksgiving. Prepare different dishes by identifying and describing 2D and 3D shapes.
Activities include:
Describing objects in the environment using names of shapes
Describing the relative positions of objects using above, below, beside, in front of, and behind
Identifying shapes and spelling shapes' names. (The letters will automatically move once they tap them to spell the word.)
Sorting 2D and 3D shapes
Shapes word search
This game features:
a 10 seconds timer
immediate feedback
The ZIP file contains:
PowerPoint game;
editable PowerPoint presentation;
a quick guide to playing the game
credits
How do you open a ZIP file? Click here.
The resource will open up in Slideshow mode so you and your students can get right to playing the game. To exit the game, hit the ESC button.
It is great to use for:
Thanksgiving activities
Thanksgiving math reviews/games
friendly classroom competition
NOTE: Please make sure you have Microsoft PowerPoint installed on your computer.
You may also like:
⭐ K - 2nd Grade Digital Math Escape Room Boom Cards™ and Google Slides™ Bundle
⭐ Thanksgiving Math Activities Bundle for 1st to 3rd Grade Boom Cards™
⭐ Thanksgiving Turkey Craft Activity | The ThankFULL Turkey
⭐ Thanksgiving Trivia Questions and Answers PowerPoint™ Game Show
☛ Don't forget that leaving feedback earns you TPT points toward future purchases.
☛ FOLLOW ME to be alerted of new products. 
Don't hesitate to contact me with any questions. (thisistheviralteacher@gmail.com)
☺The Viral Teacher
Total Pages
50 slides + editable PPT file + a guide to playing the game
Report this resource to TPT
Standards
to see state-specific standards (only available in the US).
Describe objects in the environment using names of shapes, and describe the relative positions of these objects using terms such as above, below, beside, in front of, behind, and next to.
Correctly name shapes regardless of their orientations or overall size.
Identify shapes as two-dimensional (lying in a plane, "flat") or three-dimensional ("solid").