Thanksgiving Place Value Math Game for 1st Grade Activities using PowerPoint™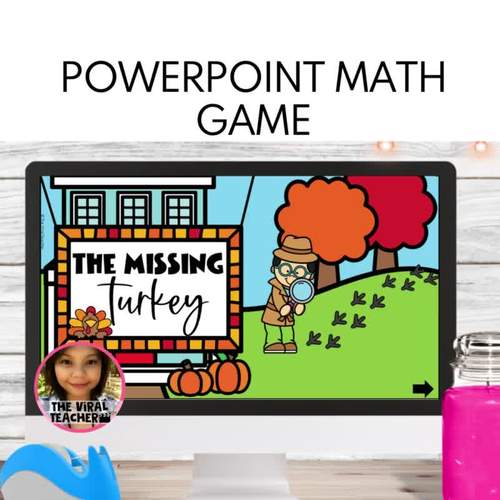 ;
76 slides + a guide to playing the game
Description
Are you pressed for time trying to plan or create Thanksgiving activities for your 1st grade students? You've come to the right place! Your students will enjoy this NO PREP PowerPoint game focusing on understanding and reviewing place value. The math topics included are Common Core aligned.
Reasons why you need this product:
It's a time saver. All the work is done for you. You only need to project the PowerPoint on the smartboard, and students can start playing the game.
Since there is a total of 60 questions, you can set up 4 or 5 teams so students can have a friendly competition in class.
This is an interactive PowerPoint game that your students will LOVE!
**Please check the PREVIEW/VIDEO PREVIEW before purchasing.**
Background: The Turkey Family reported that one of their turkey sons had been missing for over 24 hours. There are only four places where Tyson could go: to the carnival, to the pizza shop, to the donut shop, and to the Japanese restaurant located not far away from their house. As a detective, your job is to find Tyson using your place value skills before he ends up on someone else's table for Thanksgiving. Good luck!
Activities include:
identifying tens and ones - 15 slides
comparing two two-digit numbers - 15 slides
addition within 100 - 15 slides
subtracting multiples of 10 in the range of 10-90 - 15 slides
This game features:
a sound effect when your answer is correct;
immediate feedback;
greater than, less than, and equal to GIFs
The ZIP file contains:
PowerPoint game;
a quick guide to playing the game
credits
How do you open a ZIP file? Click here.
The resource will open up in Slideshow mode so you and your students can get right to playing the game. To exit the game, hit the ESC button.
It is great to use for:
Thanksgiving activities
Thanksgiving math reviews/games
friendly classroom competition
NOTE: Please make sure you have Microsoft PowerPoint installed on your computer.
You may also like:
⭐ 1st Grade Math Digital Escape Room Game Boom Cards™ and Google Slides™
⭐ 1st Grade Math Christmas Escape Room Counting and Skip Counting Google Slides™
⭐ 1st Grade Math and ELA Holiday and Seasonal Escape Rooms Boom Cards™ Bundle
☛ Don't forget that leaving feedback earns you TPT points toward future purchases.
☛ FOLLOW ME to be alerted of new products. 
Don't hesitate to contact me with any questions. (thisistheviralteacher@gmail.com)
☺The Viral Teacher
Total Pages
76 slides + a guide to playing the game
Report this resource to TPT
Standards
to see state-specific standards (only available in the US).
Understand that the two digits of a two-digit number represent amounts of tens and ones. Understand the following as special cases:
10 can be thought of as a bundle of ten ones - called a "ten."
The numbers from 11 to 19 are composed of a ten and one, two, three, four, five, six, seven, eight, or nine ones.
The numbers 10, 20, 30, 40, 50, 60, 70, 80, 90 refer to one, two, three, four, five, six, seven, eight, or nine tens (and 0 ones).
Compare two two-digit numbers based on meanings of the tens and ones digits, recording the results of comparisons with the symbols >, =, and <.