Thanksgiving STEM Activity - Pilgrim or Wampanoag Shelters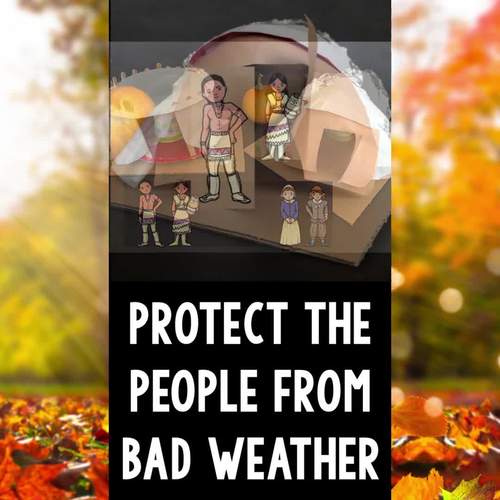 ;
What educators are saying
I love this resource! I use it to go along with our science curriculum. We test the structures against different natural disasters! Thank you for a fun resource.
My students enjoyed working with this material and it was easy to prepare and use. GREAT STEM PROJECT!
Also included in
These Thanksgiving STEM activities will keep your students engaged right up until the break as they design and build devices to help the Wampanoag and/or Pilgrims meet their needs for transportation, shelter, food, and more. Modification suggestions are included to make these challenges engaging and

Price $8.98

Original Price $17.50

Save $8.52

Super-charge your STEM class with 52 high-engagement, critical thinking, problem-solving, NGSS-aligned challenges to take you through the entire year! Modifications are included to make these activities engaging and challenging for students in grades 2 - 8. The basic premise: Students work in partne

Price $95.00

Original Price $186.36

Save $91.36

This Thanksgiving STEM / STEAM Challenge is collaborative, brain-busting work disguised as fun!The basic premise:Individually or in partners/groups, students will design and build a shelter to protect one or more Pilgrims or Wampanoag people from wind, rain, and snow.--Note: Pilgrim and Wampanoag cu

Price $5.98

Original Price $7.96

Save $1.98

Two Fall STEM activities to engage your students in the 4 C's of engineering - Protect the People Shelter STEM Challenge & Fall STEM Improv!Fall STEM Activity 1: STEM ImprovA quick STEM activity to work on creativity, mental flexibility & the planning step of the Engineering Design Process (

Price $5.50

Original Price $7.00

Save $1.50
Description
This Thanksgiving STEM activity will keep your kids engaged!
The basic premise:
Individually or in partners/groups, students will design and build a shelter to protect one or more Pilgrims or Wampanoag people from wind, rain, and snow.
Note: Pilgrim and Wampanoag cut-outs have been provided, so you have the option of using either or both.
~~~~~~~~~~~~~~~~~~~~~~~~~~~~~~~~~~~~~~~~~~~~~~~~~~~~~~~~~~~~~~~~~~~~~~~~~~
Note: This is the printable version, though you can upload the editable student handouts to Google Slides™. However, if you are in a 1:1 / paperless classroom, you prefer the version designed specifically for use with GOOGLE SLIDES™ instead.
If you have questions about which version is right for you, please feel free to leave me a question using the product Q&A below.
~~~~~~~~~~~~~~~~~~~~~~~~~~~~~~~~~~~~~~~~~~~~~~~~~~~~~~~~~~~~~~~~~~~~~~~~~~
Resource includes:
NGSS aligned standards, Grades 2 – 8
Teacher Tips
Links to my STEM Challenge PD video series
Materials and timing
Criteria & Constraints (including modifications to increase difficulty for older students)
Measuring results
Universal STEM Challenge Notes & How to Use Student Handouts Post-design extension activities list
Link to a video walk-through of the challenge
Student Handouts
Criteria & Constraints List (in color and B&W)
Pilgrim and Wampanoag cut-outs for shelter-building (in color and B&W)
Design Analysis Handouts (2-page regular spacing and 4-page expanded spacing for primary students included) (in color and black & white)
Discussion Questions (in color and B&W)
Extension templates
Process Flow Map
Create Math Problems Based on Designs
Physical Properties of Building Materials Handouts ("wide-rule" and "college rule" versions; editable)
~~~~~~~~~~~~~~~~~~~~~~~~~~~~~~~~~~~~~~~~~~~~~~~~~~~~~~~~~~~~~~~~~~~~~~~~~~
This is one of five Thanksgiving STEM Challenge Activities. They can be purchased in a bundle at a 40% discount:
Thanksgiving STEM Design Challenge: 5-in-1 Bundle
This resource is also available in the STEM CHALLENGE YEAR-ROUND MEGA-BUNDLE at an even greater discount!
~~~~~~~~~~~~~~~~~~~~~~~~~~~~~~~~~~~~~~~~~~~~~~~~~~~~~~~~~~~~~~~~~~~~~~~~~~
Sample/suggested materials for each student or group:
(Materials you'll need to do the activity are easily modified.)
Popsicle/craft sticks (30 – 50)
Pipe cleaners (5 – 10)
Masking or packing tape (24 – 36 in.)
Foil
Cardboard / paper plates / small cups
Scissors
Ruler (to measure shelter dimensions)
Spray bottle, eye dropper (to simulate rain)
Bottled Water (to simulate snow weight)
Small fan (to simulate wind; alternatively, you can blow through a straw)
Optional ideas:
– Straws
– Coffee filters
– String
– Cable ties
~~~~~~~~~~~~~~~~~~~~~~~~~~~~~~~~~~~~~~~~~~~~~~~~~~~~~~~~~~~~~~~~~~~~~~~~~~
What do teachers have to say about this resource?
"My kids are LOVING these Thanksgiving STEM activities! The engagement level is high and it's a perfect activity to keep learning going even though the holidays are approaching and kids know there is going to be a break from school!"
"This was a great activity to wrap up our unit on Wampanoag and Pilgrims. I liked the planning and reflection documents."
"This product was very thoughtfully laid out. It was very easy to follow, engaging, and creative! I really appreciate how you made cross curricular ties to math and language arts. Sometimes it's tricky to do with science, and this will really help students have fun and make connections. Thank you!"
"Fun activity to use year after year. It was a great way to challenge my students with learning disabilities (high school). They loved doing this activity."
"My middle school kids had a lot of fun."
"So awesome! My firsties really enjoyed this activity."
"My students loved this activity. The worksheets that went with it were perfect. I'm going to do it again next year after we research pilgrim's daily life and their environment."
"My 7th and 8th graders loved this!"
"Did it with first graders...They loved it!"
"So much fun. The students loved it. Great for critical thinking!"
~~~~~~~~~~~~~~~~~~~~~~~~~~~~~~~~~~~~~~~~~~~~~~~~~~~~~~~~~~~~~~~~~~~~~~~~~~
You might also like these resources:
STEM Challenges & Bundles (grades 2 – 8):
STEM CHALLENGE YEAR-ROUND MEGA-BUNDLE
Thanksgiving STEM Challenge Activities Bundle
Christmas - Winter STEM Challenge Activities Bundle
Halloween STEM Activities Bundle
~~~~~~~~~~~~~~~~~~~~~~~~~~~~~~~~~~~~~~~~~~~~~~~~~~~~~~~~~~~~~~~~~~~~~~~~~
Please check out the video preview to see the challenge, and don't hesitate to contact me with any questions!
~~~~~~~~~~~~~~~~~~~~~~~~~~~~~~~~~~~~~~~~~~~~~~~~~~~~~~~~~~~~~~~~~~~~~~~~~
Teaching Duration
90 minutes
Report this resource to TPT
Standards
to see state-specific standards (only available in the US).
Develop a simple sketch, drawing, or physical model to illustrate how the shape of an object helps it function as needed to solve a given problem.
Analyze data from tests of two objects designed to solve the same problem to compare the strengths and weaknesses of how each performs.
Evaluate competing design solutions using a systematic process to determine how well they meet the criteria and constraints of the problem.
Ask questions, make observations, and gather information about a situation people want to change to define a simple problem that can be solved through the development of a new or improved object or tool.
Plan and carry out fair tests in which variables are controlled and failure points are considered to identify aspects of a model or prototype that can be improved.