The 5 Second Rule Lab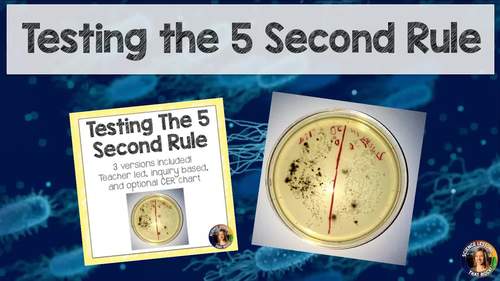 ;
Also included in
This bundle has everything you need in order to teach and review the scientific method and nature of science to secondary students. You will receive powerpoints, card sorts, labs, writing prompts, worksheets, exit tickets, and a unit test. You can click on each product below to preview.

Price $25.92

Original Price $41.00

Save $15.08
Description
This is a great lab to begin with in your scientific method unit! Students will test whether or not the 5 second rule is really valid or not.
Three versions of this lab are included:
1. Teacher led (grades 6-8)- Students will be given the procedures for the lab and be expected to test the experiment, collect data, and draw conclusions.
2. Student led (grades 9-12)- This inquiry based version allows students to come up with their own experimental design. Many students will not have the best set-up, and that is okay! It leads to great discussion about controlled experiments.
Both versions have been left editable so you can change food types, amount of time food is dropped, etc.
3. Student led (grades 9-12)- Same format as the inquiry based version but includes a CER chart instead of post-lab questions.
To complete this lab you will need to order pre-poured agar plates from a biology supply company or pour your own. Other materials you will need: food source, gloves, stopwatches, stereoscopes (optional).
You might also be interested in:
Soda Carbonation Experimental Design Lab
3 Hole Bottle Inquiry Experiment- FREE!
Be sure to follow my TpT store by clicking on the green "follow me" next to my seller picture to receive notifications of new products and upcoming sales. 
Don't forget to leave feedback to earn TpT credits that can be used for future purchases! 
Want free tips and resources sent to your inbox once a week? Subscribe to my newsletter! You can also...
♻️ Check out my blog
♻️ Follow me on facebook
♻️ Follow me on instagram
♻️ Follow me on pinterest
Report this resource to TPT
Standards
to see state-specific standards (only available in the US).
Construct a scientific explanation based on evidence for how environmental and genetic factors influence the growth of organisms. Examples of local environmental conditions could include availability of food, light, space, and water. Examples of genetic factors could include large breed cattle and species of grass affecting growth of organisms. Examples of evidence could include drought decreasing plant growth, fertilizer increasing plant growth, different varieties of plant seeds growing at different rates in different conditions, and fish growing larger in large ponds than they do in small ponds. Assessment does not include genetic mechanisms, gene regulation, or biochemical processes.