The Age of Enlightenment Unit | Readings, Comprehension, Research, Projects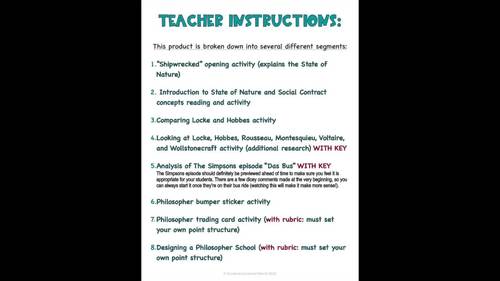 ;
Description
⭐ "Shipwrecked" opening activity (explains the State of Nature)
⭐ Introduction to State of Nature and Social Contract concepts reading and activity
⭐ Comparing Locke and Hobbes activity
⭐ Looking at Locke, Hobbes, Rousseau, Montesquieu, Voltaire, and Wollstonecraft
activity (additional research) WITH KEY
⭐ Analysis of a pop culture cartoon TV show episode "Das Bus" WITH KEY
⭐ Philosopher bumper sticker activity
⭐ Philosopher trading card activity (with rubric: must set your own point structure)
⭐ Designing a Philosopher School (with rubric: must set your own point structure)
I would greatly appreciate your feedback!
Any questions? Please let me know as soon as possible in the product Q/A so I can help.
Answer Key
Included with rubric
Report this resource to TPT
Standards
to see state-specific standards (only available in the US).
Cite specific textual evidence to support analysis of primary and secondary sources, attending to such features as the date and origin of the information.
Determine the central ideas or information of a primary or secondary source; provide an accurate summary of how key events or ideas develop over the course of the text.
Analyze in detail a series of events described in a text; determine whether earlier events caused later ones or simply preceded them.
Determine the meaning of words and phrases as they are used in a text, including vocabulary describing political, social, or economic aspects of history/social studies.
By the end of grade 10, read and comprehend history/social studies texts in the grades 9–10 text complexity band independently and proficiently.