The Book Of Suffixes. Affixes. Vocabulary. Academic. SAT. GMAT. ESL EFL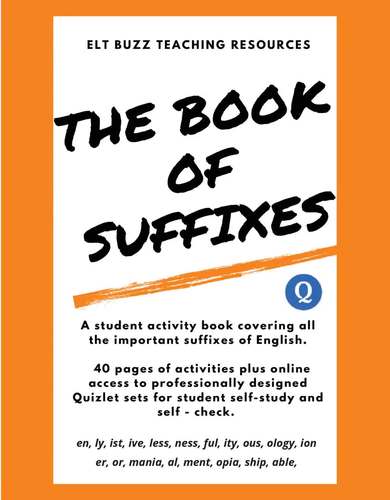 ;
5

th

- 12

th
,
Higher Education
,
Adult Education
,
Homeschool
Easel Activity Included
This resource includes a ready-to-use interactive activity students can complete on any device. 
Easel by TPT is free to use!
Learn more
.
Compatible with Digital Devices
The Teacher-Author has indicated that this resource can be used for device-based learning.
Easel Assessment Included
This resource includes a self-grading quiz students can complete on any device. 
Easel by TPT is free to use!
Learn more
.
Description
A complete student activity book for practicing, learning and mastering the major suffixes of the English language. 20 suffixes reviewed.
Perfect for test preparation or vocabulary building.
Each suffix has 2 worksheets. One - students write match the word and definition
Two - students write their own sentences using each suffix. See the preview file.
Also, has a 30 question online assessment. Assign by link or code and students do the assessment to show mastery. Get the results.
Each of 20 suffixes comes with a professionally designed Quizlet set for checking the answers of student online study, learning. Click the Q logo and go. A complete online suffix vocab platform.
ESL, EFL, ESOL, writing, ela, vocabulary, flashcards, academic, prefix, suffix, workbook, learning English, printables, teaching English, vocabulary, homework, blackline master, powerpoint, pdf, book, examples, tefl, tesol, lesson, spelling, reading, writing,
See our student activity books for Prefixes
*****************************************************************************
Our Related Products
The Top 100 Youtube Videos for teaching English + Resources
Get Speaking Conversation Cards
Beginner English Vocabulary Worksheets / Flashcards
*****************************************************************************
Teaching Duration
1 Semester
Report this resource to TPT
Standards
to see state-specific standards (only available in the US).
Determine or clarify the meaning of unknown and multiple-meaning words and phrases by using context clues, analyzing meaningful word parts, and consulting general and specialized reference materials, as appropriate.
Demonstrate understanding of figurative language, word relationships, and nuances in word meanings.
Acquire and use accurately a range of general academic and domain-specific words and phrases sufficient for reading, writing, speaking, and listening at the college and career readiness level; demonstrate independence in gathering vocabulary knowledge when encountering an unknown term important to comprehension or expression.