The CVCE Curriculum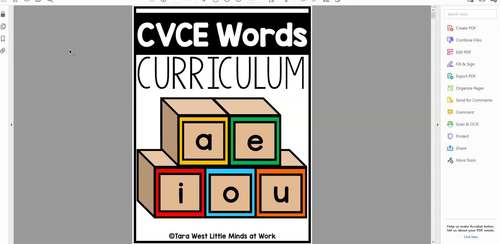 ;
What educators are saying
Another amazing bundle. Perfect for kindergarten and teaching the alphabet. A lot of great variety and it has everything you need.
I used the CVC curriculum when I taught kindergarten and I knew I needed to add the CVCE curriculum to my classroom when I moved to first grade!
Description
What is The CVCE Curriculum?

Thanks so much for showing interest in my CVCE Curriculum! The CVCE Curriculum offers 10 weeks of engaging and hands-on material for a total of 50 scripted lessons. However, the material can easily be expanded over a longer academic period. The idea of The CVCE Curriculum is you can completely transform your phonics teaching with FUN and engaging, yet still rigorous, lessons. The CVCE Curriculum is completely comprehensive, so the only thing you'll need to add in is a few hands-on items/manipulatives!

*View a detailed preview video of this program *

* * * Questions? Click HERE to Instant Message me! * * *

What is included in The CVCE Curriculum?

Detailed lesson plans (5 lessons per week - 50 total)
50 daily printables (CVC worksheets)
50 daily interactive notebook sheets
50 Aligned center mats
10 phonics decodable poems
10 phonics decodable books
10 phonics songs (offered in two versions)
10 phonics sorts (offered in two versions)
CVCE (color-coded) word cards
Word and sentence pocket chart build cards
CVCE decoding strips/cards
CVCE "Hot Potato" games
CVCE centers (10 included)
CVCE Hands-On Tasks (10 included)


The CVCE Curriculum Scope and Sequence:

WEEK 1: a_e words
WEEK 2: a_e words
WEEK 3: i_e words
WEEK 4: a_e and i_e words
WEEK 5: o_e words
WEEK 6: i_e and o_e words
WEEK 7: u_e words
WEEK 8: o_e and u_e words
WEEK 9: Mixed CVCE words
WEEK 10: Mixed CVCE words

The CVCE Curriculum is teacher-created, kid-tested, and most importantly kid-approved! The CVCE Curriculum takes away that monotonous way of teaching the CVCE words which students sit and listen to the teacher TEACH. Instead, the CVCE Curriculum encourages guidance from the teacher while the students EXPLORE and LEARN through hands-on and engaging activities that utilize all modes of learning.

The CVCE Curriculum is made up of 50 instructional days but can be adjusted to fit your classroom needs. The curriculum includes lessons, songs, centers, exploration tubs, and an assessment piece as a way to ensure student growth.

These are just a few highlights you'll see using the CVCE Curriculum:


Kids...TALKING about CVCE words
Manipulatives and hands-on material
Fun and engaging learning experiences
Multisensory learning approach


Questions? Please email me at littlemindsatworkllc@gmail.com

Would you like to receive notifications for my newly released packets and upcoming sale? Be sure to FOLLOW ME here on TPT!

**Join my private Facebook Group to join fellow Pre-K, Kindergarten, First Grade and Second Grade teachers that use my curriculum! Collaborate, chat and share ideas with like-minded teachers! Join the private Facebook group H E R E!
Visit my blog Little Minds at Work
Follow me on Facebook
Report this resource to TPT