The Cask of Amontillado by Edgar Allan Poe Digital Close Reading and Analysis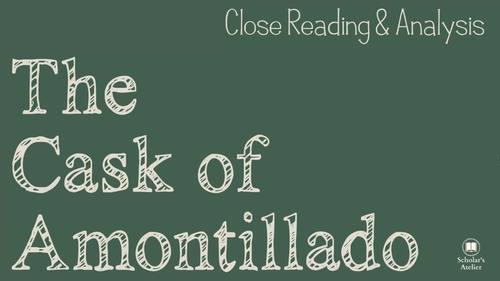 ;
Compatible with Digital Devices
The Teacher-Author has indicated that this resource can be used for device-based learning.
Description
This digital resource guides students through Edgar Allan Poe's classic short story, The Cask of Amontillado. As they read the story, students will answer questions about the text to comprehend and analyse the text.
Questions cover the following topics:
Comprehension & inference
Irony
Setting
Character
Language techniques
Word choice
Symbolism
The resource also includes a slide about important contextual information for students to understand before reading the story, and additional context is provided at relevant points throughout the story.
This resource is provided in two formats: a PowerPoint with text boxes where students can type in their answers, and a fillable PDF form. To use this resource with Google Classroom, upload the PPT file to your Google Drive.
------------------------------------------------------------------------------------------------------------------
Looking for other short story resources? Check out my Miss Brill Digital Close Reading resource and my FREE Short Story Analysis Template!
Follow me on Instagram or Facebook to hear about new products, or check out the Scholar's Atelier website!
Teaching Duration
2 hours
Report this resource to TPT
Standards
to see state-specific standards (only available in the US).
Read closely to determine what the text says explicitly and to make logical inferences from it; cite specific textual evidence when writing or speaking to support conclusions drawn from the text.
Determine central ideas or themes of a text and analyze their development; summarize the key supporting details and ideas.
Analyze how and why individuals, events, and ideas develop and interact over the course of a text.
Interpret words and phrases as they are used in a text, including determining technical, connotative, and figurative meanings, and analyze how specific word choices shape meaning or tone.
Analyze the structure of texts, including how specific sentences, paragraphs, and larger portions of the text (e.g., a section, chapter, scene, or stanza) relate to each other and the whole.