The Charm of Encanto Original Song With Orff Arrangement for Percussion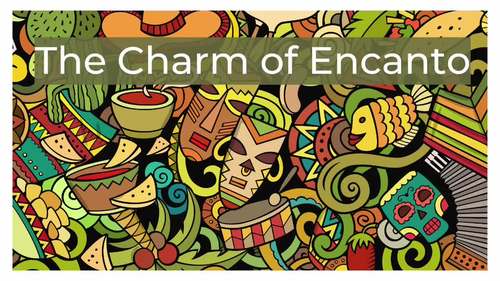 ;
Description
This original song inspired by the Spanish word, encanto, is accompanied by an Orff arrangement, Latin rhythm and melodic elements, and is a great extension to the movie craze that has swept the nation.  
It's a perfect concert selection or classroom exploration of Latin-flavored ostinati!
This song is in Dm so B flats are needed for xylophones. However, you can challenge kids to play the part on recorders if you don't have B flats on your mallet instruments. There is so much flexibility with the ostinati, that you can also leave this part out.
This resource includes:
a 45-slide PPT presentation that teaches the song with Kodaly and Orff specialized learning.
embedded audio files to break down the learning and as performance aids
PDF files of all the music notation with a full score and score reduction
The Breakdown
The Song-a patter song-ish style uses a reduced Latin bass line with lyrics that are an acrostic of the word encanto and what it means to be a family.
Orff-learning the ostinati involves using speech, body percussion, and then instruments.
Kodaly-the song is la-based so practice with la-re, re-fa, and fa-mi. Rhythm-notes include quarters, eighths, sixteenths, syncopation, and a great example of tied notes. If you aren't ready for some of those notes, those slides are easy to skip.
Recorder-This optional part uses the notes low D, G, and A.
Performing Options
Instrumentation is suggested but the parts are easily adapted to the instruments you have in your classroom.
Because of the many audio files, it is available in PPT only.
The Oodles Song Teaching Series
Change the World, With Kindness: "Wow. I'm so impressed. This is the most beautiful and useful resource I've ever purchased on TPT. My students have loved learning this song and its meaning. I've also learn so much about ways to teach songs to my students from here on out. I can't wait to purchase more from you! Thank you so much for your dedication to our profession and helping teachers by creating resources!"
One Piece of Pie: "Perfect fall activity. My students loved it."
Martin's Dream of 1963: "My students have enjoyed this resource, and they were engaged. I used it to go through the words in the rap and talk about the meanings of the words and how they apply to Dr. King. It turned out to be a great lesson. My 3rd-year students want to perform it at their spring concert."
Martin's Dream of 1963: "Comprehensive and engaging resource. Easily adapted to fit needs of my classroom."
Rhythm Writing Activities
The One-Beat Diner of Remarkable Rhythms-A super FUN activity where students create a menu (of one-beat food items) and then put items (rhythms) together for a special Take-Out selection.
Follow my blog Oodles of Music for
tons of free resources
ukulele playalongs from easy to advanced (some of my most visited pages)
MEGA databases (by song subject, great videos for you and subs, holidays)
Tips & resources for concerts, staging, decorations, blacklights
Follow my YouTube channel for
Game Videos
Ukulele and Body Percussion Playalongs & Activities
Report this resource to TPT