The Creeping Hour Podcast Study - After State Testing & End of Year Activities!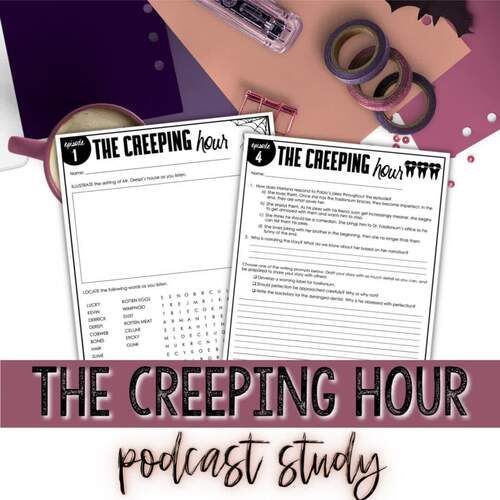 ;
PDF

Google Apps™
Includes Google Apps™
The Teacher-Author indicated this resource includes assets from Google Workspace (e.g. docs, slides, etc.).
What educators are saying
This is an exceptional resource for helping students with their RL standards! Thanks so much for making it so engaging for the students!
My students LOVED doing this after state testing! They were HIGHLY engaged and were able to enhance their speaking and listening skills!
Description
Looking for a fun, no-prep listening activity for your Language Arts class? Your students will LOVE this podcast study for "The Creeping Hour," and you'll love these companion sheets! These five terrifying tales make the perfect activity to use when wrapping up state testing, before/after a school break, or with a sub! Digital & printable versions are included.
Check out the PREVIEW for more information!
Here's the scoop: The Creeping Hour has a 5-episode podcast that tells scary stories in 15 minutes or less.
So how do you use it in the classroom? With listening sheets, comprehension questions, and creative writing prompts of course!
How do you use it?
For each episode, I've provided a double-sided worksheet (or Google Slides) that includes:
Listening Activity: Illustrate the setting, conflict, etc. OR a word search
Post-Listening Activity: Standards-based questions and a fun writing prompt
Sounds great, what prep is required?
With your purchase, all you need to do is print the booklets double-sided & go! Need to use this digitally? No problem! A Google Slides alternative is provided, ensuring that any student can complete the assignment.
This podcast companion set is perfect for those awkward times when you need to fill the period with something purposeful, but you know the kids need something engaging, like:
Fun Fridays
End of Quarter Reward
The Day Before Break
End of the School Year
Halloween
Short Days
...you name it!
_______________________________________
TEACHERS LIKE YOU SAID…
⭐️⭐️⭐️⭐️⭐️ Heather said, "I love this. It is just the right amount that still makes it fun! Sometimes the activities are too much and make the podcast a chore. This was perfect. I will use it again."
⭐️⭐️⭐️⭐️⭐️ Kelsi said, "This was great to accompany the podcast. I loved that there was a digital and print to it."
⭐️⭐️⭐️⭐️⭐️ Spectacular in Special Education said, "This was awesome for the end of year chaos - this kept my students entertained! I hope they release more podcasts!"
_______________________________________
Have a question?
Please check out the Q & A section or email me at info@heynatayle.com.com. I'll get back to you within 24 hours.
Don't forget to leave me feedback! I love to hear what my buyers have to say, how the product worked for them, and any feedback I can use to improve my product! (It also earns you points towards future TPT Purchases)
✔️ Follow me to be notified when I've posted new products. New products are always 50% off for the first 48 hours!
✔️ Subscribe to my NEWSLETTER for tips, ideas, and activities that make teaching middle school ELA feel engaging and purposeful.
Thanks so much,
Natayle Brown
___________________________________
Copyright © Hey Natayle.
Permission to copy for single classroom use only.
Please purchase additional licenses if you intend to share this product.
Report this resource to TPT
Standards
to see state-specific standards (only available in the US).
Compare and contrast two or more characters, settings, or events in a story or drama, drawing on specific details in the text (e.g., how characters interact).
Explain how a series of chapters, scenes, or stanzas fits together to provide the overall structure of a particular story, drama, or poem.
Describe how a narrator's or speaker's point of view influences how events are described.
Describe how a particular story's or drama's plot unfolds in a series of episodes as well as how the characters respond or change as the plot moves toward a resolution.
Analyze how a particular sentence, chapter, scene, or stanza fits into the overall structure of a text and contributes to the development of the theme, setting, or plot.