The Dot by Peter Reynolds Tower Builder READ ALOUD STEM™ Activity + DIGITAL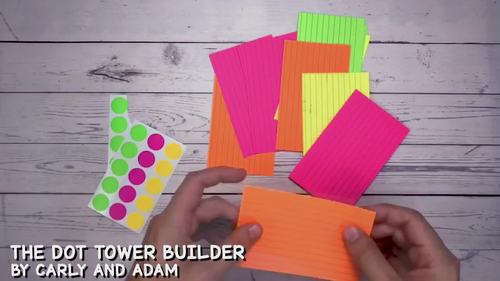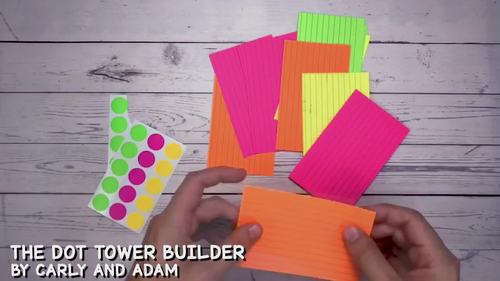 Created By
Carly and Adam
You can add an interactive layer to this PDF and assign it to your students through Google Classroom.
Learn more
Also included in:
Includes TpT Digital versions for Google Classroom remote learning.Teach Growth Mindset with Growth Mindset STEM Activity and STEAM Directed Drawing Activities! Students learn and develop a Growth Mindset through STEAM and STEM! Growth Mindset STEAM / STEM works as a companion to the books Ish, Sky

STEM Challenges include TpT Digital Activities Version for Google Classroom Distance Learning!Start your school year right with Back to School Read Alouds! Includes 3 STEM Challenges and 4 Lessons to accompany The Dot by Peter Reynolds, Have You Filled A Bucket Today? by Carol McCloud, My Mouth is a

Includes TpT Digital version for Google Classroom remote learning.Students develop a Growth Mindset through these STEM Challenges!The Dot STEM Challenges Bundle works as a great companion to The Dot by Peter H. Reynolds. These Growth Mindset STEM challenges are perfect International Dot Day Activiti

Includes TpT Digital Tool Version for Google Classroom Distance Learning!Integrate STEM and Literacy in your classroom all year! Everything you need to be the Master STEM Teacher at your school! Awaken imagination and creativity all year. Students learn coding, engineering, explore real world proble

$161.50

$100.00

Save $61.50
Product Description

Standards
INCLUDES DIGITAL VERSION for DISTANCE LEARNING!
Students learn and develop a Growth Mindset through this STEM Challenge!
The Dot STEM activity works as a great companion to The Dot by Peter Reynolds. This is an excellent International Dot Day Activity.
Students plan, design, and execute their own ideas. After they have completed their activity, there is time for reflection on what worked and what didn't.
Amazing resource for STEM club, STEM teachers, elementary librarians, parents who love hands-on learning, and elementary teachers who want to create a hands-on educational environment in their classroom!
Aligns with NGSS (Next Generation Science Standards).
Includes:
Teacher Instructions (with photos)
Student Instructions
Student Planning and Reflection Pages
Growth Mindset Worksheets
STEM Journal
NGSS Standards
TpT Digital Activity Version that can be assigned in Google Classroom
Materials List:
Dot Stickers
Index Cards
Ruler
Scissors
The Dot by Peter Reynolds (Recommended)
What Teachers are saying about this resource!
"Love the incorporation of a read aloud into a STEM project!"
"Perfect back to school activity to introduce STEM topics and growth mindset."
"Awesome way to show growth mindset!"
"Looks great! Excited to help some of my kids feel they really can do anything!"
OUR BLOG:
Be sure to check out our blog, The Carly and Adam Blog, for teaching tips and discussion.
FOLLOW OUR STORE!
Copyright ©Carly and Adam. All rights reserved by Carly and Adam. This product is to be used by the purchaser only. Copying for more than one teacher, classroom, department, school, or school system is prohibited. This product may not be sold, distributed, or displayed digitally (in part or in whole) for public view. Failure to comply is a copyright infringement and a violation of the Digital Millennium Copyright Act (DMCA).
Generate and compare multiple possible solutions to a problem based on how well each is likely to meet the criteria and constraints of the problem.
Define a simple design problem reflecting a need or a want that includes specified criteria for success and constraints on materials, time, or cost.
Plan and carry out fair tests in which variables are controlled and failure points are considered to identify aspects of a model or prototype that can be improved.
Ask questions, make observations, and gather information about a situation people want to change to define a simple problem that can be solved through the development of a new or improved object or tool.
Analyze data from tests of two objects designed to solve the same problem to compare the strengths and weaknesses of how each performs.
Report this Resource to TpT