The Ed Deck: Lesson Planning Inspiration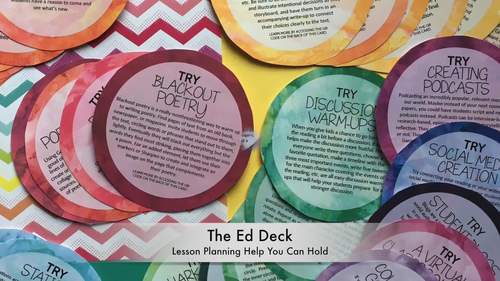 ;
What educators are saying
These ideas are so easy to pull out and incorporate into any lesson! I've even used them as sub-plans or during last-minute lesson/schedule changes. Thank you so very much!
Great to revise approaches to existing activities through the wide range of ideas contained in this resource.
Description
Do you have your teaching ideas scattered across notes on your desk, folders on your desktop, and social media platforms? You're not alone! But the Ed Deck makes it easy to find creative inspiration, quickly, when you're lesson planning for your next English class.
Inside the deck you'll find forty beautiful cards, organized by color category, explaining strategies you might wish to use during your next class. Looking for a fresh form of discussion? Grab the green cards and choose from fishbowl discussions, silent discussions, Harkness discussions, and more. Need a new project? Grab the yellow cards and consider one-pagers, design thinking projects, literary food trucks, mock trails, and more.
You'll also find an included file of blank cards, ready for you to edit to add more strategies you want in your own personalized Ed Deck.
*2020 Addition: Now including a pack of cards specially designed to inspire your creative teaching during remote learning.
From the Reviews:
"There are some excellent ideas in the tech deck that I have used with my students. I have seen a HUGE increase in engagement with these activities! Thank you so much."
" So much creative inspiration in this product. I love your work!"
"Love this resource! It has been useful already and I have many ideas to use for the blank templates. Thank you."
"This is genius! I had been looking at it on Insta and in multiple blogs and debated purchasing. I wasted too much time! This is totally worth it and I LOVE having the reminders and the inspiration!"
"I love all of the ideas presented in this deck! If you are a veteran teacher, buy this for yourself and ALL of the new teachers in your department!"
"LOVE, LOVE, LOVE this! Cannot wait to use this when we return! Great resource!"
"Great tool to help reach reluctant learners (and teachers)! This truly helped me reach others in my attempt to make literacy a cross-curricular initiative!"
The cards make a beautiful bulletin board of ideas for your department office or faculty room, or you can keep them in your desk for everyday use. These also make a great gift for a student teacher.
Many of the cards are paired with a QR code you can access to learn more if the strategy is new to you, and several lead to a blog post where you can sign up to download free related curriculum.
Please watch the preview video for a close look at the cards.
To prepare your Ed Deck...
Choose your file - one is formatted for those with the ability to print double-sided, and the matching QR codes will be printed on the backs of the cards with QR access. The other is formatted for those without the ability to print double-sided, and the matching QR codes are printed in an index you can keep handy if you want to further explore the QR access strategies.
Print the Ed Deck in color on CARDSTOCK. Spend half an hour cutting out your cards while you watch Netflix - I recommend The Great British Baking Show, but you do you!
*Please note that the editable cards are not available for you to use to make TPT products. Thank you!
Questions? I've probably got answers! You can reach me at betsy@nowsparkcreativity.com.
Love the Ed Deck? Please consider leaving a review to share your experience. It earns you credit on future purchases and brings me so much joy. Or snap a photo of your Ed deck in action and tag me @nowsparkcreativity on Instagram so I can come say hello!
Report this resource to TPT