The Harlem Renaissance Digital Escape Room | 360° Reading Comprehension Game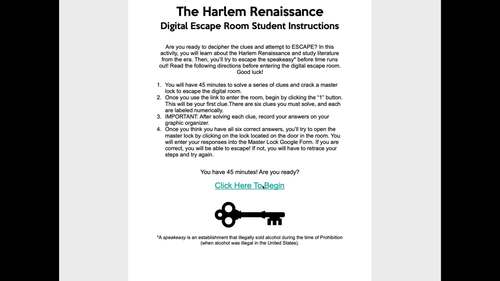 ;
Compatible with Digital Devices
The Teacher-Author has indicated that this resource can be used for device-based learning.
Also included in
This Black History Month Activities Bundle includes 11 ELA products to celebrate Black History Month in February!The following lessons are included:Black History Month One-Pager ProjectLangston Hughes "I, Too" paired with Walt Whitman's "I Hear America Singing" — Poetry AnalysisThe Harlem Renaissanc

Price $14.99

Original Price $26.90

Save $11.91
Description
Take your students back in time in this Harlem Renaissance digital escape room. Students will try to solve a series of clues as they enter the 360° digital speakeasy from the 1920s with fun jazz music playing. This is an excellent introductory activity for learning about the Harlem Renaissance and the literature of the time. No background knowledge is necessary to play! Not only will students be introduced to the history of the era, but they will read four pieces of literature within the game from legendary African American authors of the time.
Pieces of literature covered in this activity:
"I Look at the World" by Langston Hughes (Poem)
"If We Must Die" by Claude McKay (Poem)
"The Heart of a Woman" by Georgia Douglas Johnson (Poem)
"The Autobiography of an Ex-Colored Man" by James Weldon Johnson (Excerpt)
The clues are based on reading comprehension and problem solving.
What better way to expose your students to some of America's most celebrated artists of all time while learning about the significance of the Harlem Renaissance? Have your students work independently or in teams, it's up to you! Included in this download are teacher instructions, student instructions, the master lock graphic organizer, answer keys, and a reflection sheet.
Watch the video preview to get a sneak peek of the room!
This activity is designed to work for a laptop, tablet, or smart phone.

Check out these fun Escape Room Photo Props to make the experience complete!

PLEASE READ: While using this resource, you must have a wi-fi connection and the ability to access the following sites: Google Forms, Youtube.com, Kuula.co, and JigsawPlanet.com. Please check that these websites are not blocked by your district's filter before purchasing. Please also ensure your district allows viewing access for Google documents from outside your district before purchase.
Teaching Duration
50 minutes
Report this resource to TPT
Standards
to see state-specific standards (only available in the US).
Cite the textual evidence that most strongly supports an analysis of what the text says explicitly as well as inferences drawn from the text.
Determine a theme or central idea of a text and analyze its development over the course of the text, including its relationship to the characters, setting, and plot; provide an objective summary of the text.
Determine the meaning of words and phrases as they are used in a text, including figurative and connotative meanings; analyze the impact of specific word choices on meaning and tone, including analogies or allusions to other texts.
Compare and contrast the structure of two or more texts and analyze how the differing structure of each text contributes to its meaning and style.
By the end of the year, read and comprehend literature, including stories, dramas, and poems, at the high end of grades 6–8 text complexity band independently and proficiently.