The Hockey Sweater Short Story Lesson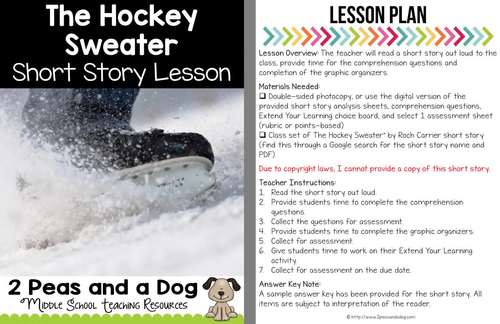 ;
Zip

Google Apps™
Includes Google Apps™
The Teacher-Author indicated this resource includes assets from Google Workspace (e.g. docs, slides, etc.).
What educators are saying
I love using material with a sports theme. I use this often at the beginning of the year as a mentor text and to model responses to reading.
The material is thorough and clear to understand. A helpful resource to help teach this iconic short story.
Description
The Hockey Sweater Short Story Lesson | PDF & Digital Formats: This short story lesson on "The Hockey Sweater" by Roch Carrier focuses on literary elements of plot, character, setting, theme, and conflict as well as these literary devices: similes, metaphors, symbols and foreshadowing. Use this lesson to introduce or review literary elements and literary devices with your students.
This resource contains individual PDFs of student pages to assist with online learning, i.e. Google Classroom™. The unit also comes with Google Slides™ versions of the included graphic organizers for 1:1 technology schools.
Lesson Includes:
Making Predictions
Comprehension Questions + Answer Key
Literary Elements and Devices Graphic Organizer + Answer Key
Extend Your Learning Assignment
Standards-based Assessment
Points-based Assessment
Individual PDFs of student pages for uploading to Google Classroom or other online learning portals
Google Slides graphic organizers for 1:1 schools
Notes:
This resource is NOT editable.
Due to copyright, PDFs of the short story are not included.
This lesson is included in the 6th and 7th Grade Short Story Units.
Teacher Feedback
"I really enjoyed this resource! I will definitely be looking into the bundles next year depending on my grade assignment!"
"I purchased this mainly because it is one of my favourite books as well as for the fun way literary devices are included. There is so much more than that in this unit. Going from primary to junior I have been having trouble getting the students to dive into books a little more and this unit outlines how to do that. I especially love the text examples because we all know students need a lot of practice with citing their evidence from the text."
"The students really enjoyed reading this book because of the hockey connection and activities were well done."
"This is a great resource. It is very easy to follow."
Related Resources:
Answer Key
Included with rubric
Report this resource to TPT
Standards
to see state-specific standards (only available in the US).
Read closely to determine what the text says explicitly and to make logical inferences from it; cite specific textual evidence when writing or speaking to support conclusions drawn from the text.
Determine central ideas or themes of a text and analyze their development; summarize the key supporting details and ideas.
Analyze how and why individuals, events, and ideas develop and interact over the course of a text.
Read and comprehend complex literary and informational texts independently and proficiently.