The House of Sixty Fathers | Literature Response Activities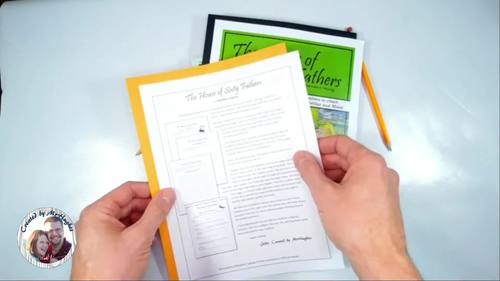 ;
Description
Now reading this thought-provoking classic by Meindert Dejong is easier than ever! With this chapter-by-chapter comprehension/literature response resource, you will be able to ensure your students understand the key events in each chapter.
Teacher Instructions and Suggestions For Use
9 pages of Chapter by Chapter Set of Questions (3-5 questions per chapter)
9 pages of Journal Writing Activities
3 Built-In 'Stop and Think' Activities
21-page Answer Key
**CHECK OUT OUR FREE PREVIEW FOR AN UPCLOSE and IN-DEPTH LOOK AT WHAT YOU GET WITH YOUR PURCHASE TODAY!**
Questions range in scope from simple recall to making inferences. These activities also require students to use predicting, questioning, and connecting skills.
Kristin L. said:
"Thank you for this resource. I had not taught this novel before and was glad to find a resource to help me get started. My students and I have benefited from this product." ⭐⭐⭐⭐⭐
Valerie S. said:
"This wonderful packet goes along so well with the book. The students are really able to delve into the book even further with the accompanying packet, and although I have read this book several times in class, this is the first time I have used this packet. I will definitely use it each time from now on." ⭐⭐⭐⭐⭐
Robyn H. said:
"Loved the higher-order thinking in the questions. It meant that my kids got far more out of the book than just reading and responding." ⭐⭐⭐⭐⭐
Happy Reading and Learning-
John, Created by MrHughes
© Created by MrHughes. Use for a single classroom and/or teacher. Additional copies must be purchased if you plan to share them with other teachers. No part of this resource may be posted on a blog (personal or commercial), webpage/site, server, or other location that is accessible by multiple people. Violations of this notice are subject to the penalties of the Digital Millennium Copyright Act (DMCA).
Report this resource to TPT