The House on Mango Street Unit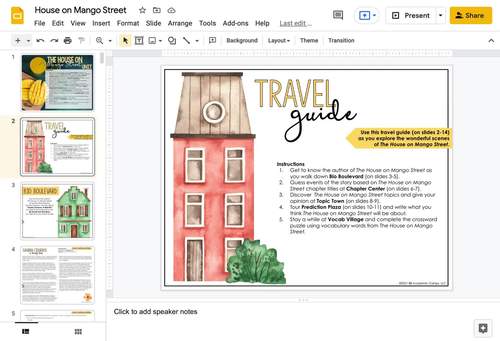 ;
Zip

Google Apps™
Includes Google Apps™
The Teacher-Author indicated this resource includes assets from Google Workspace (e.g. docs, slides, etc.).
Description
Many teachers love Sandra Cisneros' beautiful novel The House on Mango Street but find its concepts surprisingly complicated to teach. Sure, the vocabulary is simple, but the imagery, characters, and topics are very complex. Let this The House on Mango Street unit help you to teach this thoughtful, engaging story fully and effectively, so that your students will get as much out of its vignettes as you do. 
INCLUDED IN THIS RESOURCE:
Scope and Sequence Chart

A day-by-day guide to reading sections and activities. Adjust as needed for your own schedule! 

Anticipation Stations and Travel Guide

Students will rotate through five stations as they fill out in their travel guides, preparing for the novel! The stations will focus on topics from the novel, predictions, vocabulary, and Sandra Cisneros' background. 

Figurative Language Handout

A handout to help you give a mini lesson on figurative language before students read the novel. 

Reading Guide, Student Copy

A guide with about 1-2 questions for each section of the novel. You may use these for discussion or short written responses. 

Reading Guide, Teacher Copy

The teacher copy includes the same questions as the student copy, but with notes on talking points for class discussion. 

Quizzes (4)

Each quiz is multiple choice, with 10 questions: 6 story questions, 2 figurative language questions, and 2 vocabulary questions. Answer keys included.

What's in a Name? Activity*

A short writing activity to help students connect with topics from the story. 

Evidence Tracker

This tracker will help students gather evidence for the Response to Literature Essays they will write upon completing the novel.

Vocabulary Building Activity

A fun group activity in which students race to build houses using their vocabulary knowledge!

Real Talk Activity

An activity in which students write their own talking points and moderate their own small group discussions, using sticky notes and a discussion board. This is a great activity to use with other texts as well, so make sure to keep it handy while planning your next unit!

Vignette Duet Activity

Students will write two vignettes during reading: one from a younger point of view, and one from a (relatively) older point of view. The activity includes mentor sentence activities, brainstorming, drafting, and reflection. It also includes a rubric. 

Response to Literature Activity

After reading the novel, students will write a Response to Literature Activity, using the information they gathered on their evidence trackers. The activity includes filling out an organizer and drafting a complete essay. It also includes a rubric. 

Map of Mango Street's Neighborhood Activity

While reading, students will note the significance of particular places in Esperanza's neighborhood. After reading, students will use their charts to create visually engaging maps that demonstrate the significance of each place to Esperanza's life. 

Exit Tickets

Finally, students will revisit the topics they explored in their Anticipation Stations. You have two exit tickets to choose from, and you can assign one or both. In the first ticket, students will state their position on a topic and explain why Esperanza would or would not agree with their position. In the second ticket, students will consider whether Esperanza will achieve her dreams, and then they will consider their own dreams. 

Digital Version

A version of the unit that students can complete from their own computers. Great for remote learners. 
*If you already have access to the "Personal Narrative Get to Know Me" Activity or are an EBTC member who has Monthly Issue #2, it is a very similar activity to the one included in this novel unit.
***************************************************************************
Looking for more writing resources for your middle school classroom? Check out these other great resources we have in our store.
★ ONE-PAGER CHOICE BOARD - DIGITAL AND PRINT
★ 10 CRITICAL THINKING ACTIVITIES TO BE USED WITH ANY NOVEL
★ EVIDENCE GRAPHIC ORGANIZER FOR LITERARY OR INFORMATIONAL TEXT
★ 7 DAY LITERARY ANALYSIS BOOTCAMP
***************************************************************************
★ Also, make sure to follow us to be notified when we upload new resources! We always do a special discount when we release a new resource, so it pays to follow us! ★
Answer Key
Included with rubric
Teaching Duration
1 month
Report this resource to TPT
Standards
to see state-specific standards (only available in the US).
Cite several pieces of textual evidence to support analysis of what the text says explicitly as well as inferences drawn from the text.
Determine a theme or central idea of a text and analyze its development over the course of the text; provide an objective summary of the text.
Analyze how particular elements of a story or drama interact (e.g., how setting shapes the characters or plot).
Determine the meaning of words and phrases as they are used in a text, including figurative and connotative meanings; analyze the impact of rhymes and other repetitions of sounds (e.g., alliteration) on a specific verse or stanza of a poem or section of a story or drama.
By the end of the year, read and comprehend literature, including stories, dramas, and poems, in the grades 6–8 text complexity band proficiently, with scaffolding as needed at the high end of the range.