The Lightning Thief Novel Study: Digital + Printable Book Unit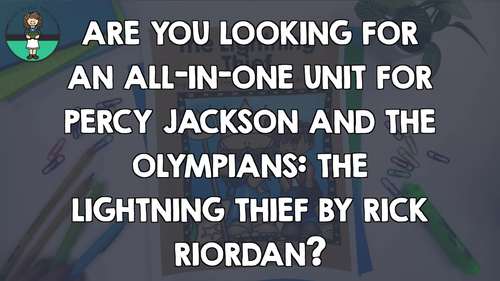 ;
PDF

Google Apps™

Internet Activities
290 Printable Pages + Activities for Google Slides + Digital Task Cards Hosted by Boom Learning +
Includes Google Apps™
The Teacher-Author indicated this resource includes assets from Google Workspace (e.g. docs, slides, etc.).
What educators are saying
Percy Jackson is such a great novel study read. This resource has everything done for you and more which makes it so easy!!
I am so grateful for this resource! My students learned so much as we completed the package. This is a great easy to use resource. Definitely one of my favorite purchases in teachers pay teachers.
Also included in
Save by purchasing book unit bundles. Books for this bundle were selected based on book reading levels and the skills covered in each book. This series ranges in grade equivalents from 4.6 to 6.4 with Lexile Measures ranging from 660 to 890. Books in this series include:Each book unit contains the f

Price $43.20

Original Price $60.00

Save $16.80
Description
Are you looking for an all-in-one digital + printable novel study for Percy Jackson and the Olympians: The Lightning Thief by Rick Riordan? Look no further. This digital + printable comprehensive unit includes vocabulary practice, comprehension questions, constructed response writing, and skill practice aligned to the Common Core Standards (CCSS) for grades 4 – 6.
Please check out the detailed preview of this unit.
Version #1 -- The Lightning Thief Digital + Printable Book Unit (This product contains the entire printable version + Activities for Google Digital Slides & Digital Task Cards hosted by Boom Learning.)
Version #2 -- The Lightning Thief Printable Book Unit (This product contains the entire printable version.)
Version #3 -- The Lightning Thief Abridged Printable Book Unit (This version contains vocabulary practice, comprehension questions, and constructed response writing.)
✨  ‍ DIGITAL RESOURCES
Exercises that can be machine graded such as multiple-choice, matching, short answer, and fill-in-the-blank questions were created using Boom Learning. This includes comprehension questions and vocabulary practice.
Open-ended questions that require students to write paragraphs, games, and organizers were created using Google Slides. Constructed response writing and most skill lessons are provided using Google Slides.
✏️  PRINTABLE RESOURCES
Lesson Plans at a Glance
Vocabulary (44 focus words – 2 for each chapter)
Word List including definitions, synonyms, and sample sentences from the text
Bookmarks
Word Cards
Practice Booklet
Test
Comprehension and Writing
Check for Each Chapter consisting of Multiple Choice, Fill in the Blanks, and Short Answer
26 Constructed Response Writing Questions
Skill Practice
Prefixes and Suffixes Word Lists, Organizers, and Puzzles
Prefix Game
Suffix Word Lists Organizers (Changing Verbs and Adjectives to Nouns) and Suffix BINGO
Root Word Lists, Organizers, and Activity
Figurative Language Response Cards, and Organizers
Context Clues Organizers and Task Cards
°*"˜˜"*°•.¸☆*"˜˜"*°•.¸☆ ★ ☆¸.•°*"˜˜"*°•.¸☆*"˜˜"*°
With your Teachers Pay Teachers purchase, users new to Boom Learning get a three-month free trial of student progress reporting for up to 150 students. Your trial includes the ability to make up to 5 free DIY decks. You may upgrade or cancel at any time. Boom Cards play on modern browsers (released in the last three years) on interactive whiteboards, computers and tablets. Boom Cards apps are also available. Not sure if your browser is modern enough? Try a free Boom Cards deck first. When you redeem your purchase, Boom Learning opens an account for you if you do not already have one. If you do not subscribe at the end of your trial, you will be able to continue using Boom Cards with the Fast Play feature. Fast Play does not track individual progress. If you do not subscribe we will delete your student records 3 months after the expiration of the trial to protect student privacy.
°*"˜˜"*°•.¸☆*"˜˜"*°•.¸☆ ★ ☆¸.•°*"˜˜"*°•.¸☆*"˜˜"*°
If you are looking for additional book units, click here to see the complete list of ★available titles.
Total Pages
290 Printable Pages + Activities for Google Slides + Digital Task Cards Hosted by Boom Learning +
Teaching Duration
1 month
Report this resource to TPT
Standards
to see state-specific standards (only available in the US).
Refer to details and examples in a text when explaining what the text says explicitly and when drawing inferences from the text.
Determine a theme of a story, drama, or poem from details in the text; summarize the text.
Describe in depth a character, setting, or event in a story or drama, drawing on specific details in the text (e.g., a character's thoughts, words, or actions).
Determine the meaning of words and phrases as they are used in a text, including those that allude to significant characters found in mythology (e.g., Herculean).
Explain major differences between poems, drama, and prose, and refer to the structural elements of poems (e.g., verse, rhythm, meter) and drama (e.g., casts of characters, settings, descriptions, dialogue, stage directions) when writing or speaking about a text.