"The Little Old Lady Who Was Not Afraid of Anything" Speech Language Companion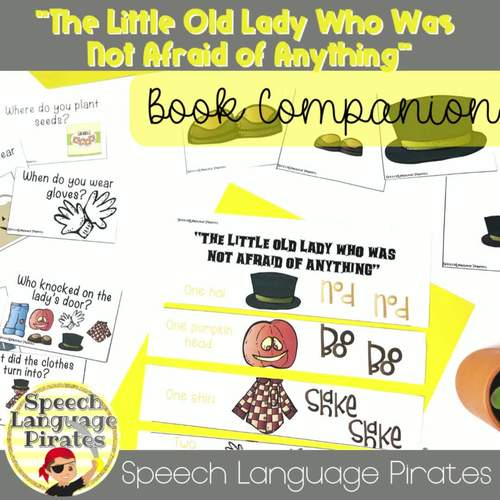 ;
What educators are saying
This is my favorite resource to use with this book.!! I use the sequencing strips every year and the students think they are the best tool to use.
this was an amazing purchase. There was so much to do with the story and my Autistic students loved it!
Description
If you're looking for the perfect Fall/Halloween book and coordinating activities for speech therapy, look no further than "The Little Old Lady Who Was Not Afraid of Anything"! This book is the perfect mix of spooky and fun, while also ideal for sequencing, comprehension, grammar, and more!
The interactive nature of these activities is sure to engage you preschool through second grade students. The wide range of activities, including open-ended resources, makes it ideal for mixed groups.
→ What's Included?
Cut apart scarecrow for sequencing
8 Wh- Comprehension Questions with visual answer choices
16 Yes/No Questions with visual answer choices
8 General Knowledge Wh- Questions to do with Fall, Halloween, and functions objects from the story
8 Pragmatics Questions to do with emotions and social interactions
Story props for sequencing, vocabulary, retelling, to increase/decrease a field of possible answer choices, and more!
Grammar - complete the sentence with either "go" or "goes", plus a rule visual
Grammar - regular plurals
Categories - 24 objects sorted into 4 categories (with possible overlap)
Associations - 8 pairs of go together
Basic Concepts - 12 big vs. small visuals
Basic Concepts - 8 location visuals
Barrier Game to place objects from the story around the old lady
Same & Different - 16 visuals
Matching - color and black ink only worksheets to match objects from the story with the sound they make.
Scarecrow Coloring Page
Open Ended Game Board
✅Have a closer look - check out the preview to see everything that's included, up close!
☠ Click here to follow Speech Language Pirates and stay up to date on the latest resources, freebies, and special promotions!
Report this resource to TPT