"The Most Dangerous Game" Short Story Unit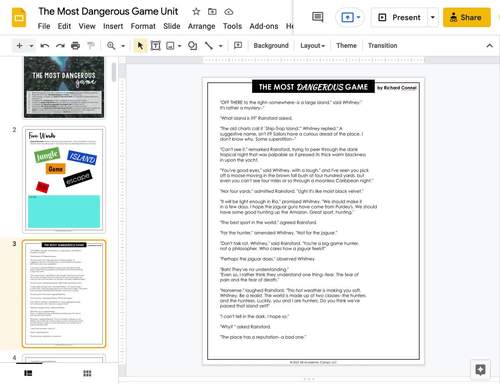 ;
Zip

Google Apps™
Includes Google Apps™
The Teacher-Author indicated this resource includes assets from Google Workspace (e.g. docs, slides, etc.).
Also included in
This is an easy-to-use, print-and-go short story unit bundle that is perfect for your middle school or high school classroom! With challenging activities, teacher annotations, in-depth discussion questions, comprehensive unit tests, and more, this bundle is a rigorous, comprehensive look at FOUR tri

Price $27.00

Original Price $34.25

Save $7.25

These Nine Short Stories included in this bundle are perfect for your middle school classroom! Incorporating more short stories into your curriculum can result in higher student engagement, increased proficiency in citing and justifying textual evidence, and more complex analysis just to name a few!

Price $52.00

Original Price $67.75

Save $15.75
Description
With a story as rich and exciting as Richard Connell's "The Most Dangerous Game," you want a set of lessons that are just as thorough and engaging. This complete and comprehensive short story unit for "The Most Dangerous Game" is both educational and fun. We have included virtually everything you need to teach this thrilling tale! Nothing just "skims the surface" - all of the activities, discussion questions, assessments, and more are in-depth and focused on evidence-based logic and justification.
All of the activities included in this unit ask students to work closely with the text to extract evidence to support their thoughts and artistic choices. Your students will love this fun and rigorous unit!
**THIS RESOURCE IS A PART OF A LARGER SHORT STORY BUNDLE. SAVE OVER 20% BY PURCHASING THE BUNDLE BY CLICKING HERE!
INCLUDED IN THIS RESOURCE:
Blank Copy of "The Most Dangerous Game" 

A student copy of the story, great for students to take notes on

Complete Annotated Teacher Copy of "The Most Dangerous Game" 

Includes vocabulary definitions, examples of figurative language, explanations of events, predictions, and more 

Pre-Reading Activity

Use this "Five Words" activity for an engaging introduction to the story

Point of View Eye Art Activity

An artistic activity to help students observe the changes that take place for Rainsford's character 
Comes with teacher directions and student example

I Am Poem Activity

Help students enter the mind and heart of Rainsford with this creative poetry writing activity
Comes with teacher instructions and student example

Map and Quote Activity

An artistic activity to help students analyze the story's setting along with significant moments in the story
Comes with teacher instructions and student example

Figurative Language Scavenger Hunt and Justification Activity

A game to guide students through the story's rich figurative language. Students will identify different types of figurative language in the story (such as irony, personification, simile, metaphor, and imagery) and justify their choices.

Discussion Questions

5 thought-provoking questions to help students analyze and reflect on the story

Final Essay Question with Rubric

An open-ended question for a literary analysis essay
Comes with teacher rubric

50-Question Final Unit Test

An easy-to-grade test with matching and true/false questions, this will assess students' understanding of the story and its language. 
Comes with teacher answer key

Digital Version

Do you have remote learners? No problem! This digital version includes student instructions that guide students through the same lessons, right from their home computers. 
***************************************************************************
Looking for more writing resources for your middle school classroom? Check out these other great resources we have in our store.
★ ONE-PAGER CHOICE BOARD - DIGITAL AND PRINT
★ 10 CRITICAL THINKING ACTIVITIES TO BE USED WITH ANY NOVEL
★ EVIDENCE GRAPHIC ORGANIZER FOR LITERARY OR INFORMATIONAL TEXT
★ 7 DAY LITERARY ANALYSIS BOOTCAMP
***************************************************************************
★ Also, make sure to follow us to be notified when we upload new resources! We always do a special discount when we release a new resource, so it pays to follow us! ★
Answer Key
Included with rubric
Report this resource to TPT
Standards
to see state-specific standards (only available in the US).
Cite the textual evidence that most strongly supports an analysis of what the text says explicitly as well as inferences drawn from the text.
Analyze how particular lines of dialogue or incidents in a story or drama propel the action, reveal aspects of a character, or provoke a decision.
Determine the meaning of words and phrases as they are used in a text, including figurative and connotative meanings; analyze the impact of specific word choices on meaning and tone, including analogies or allusions to other texts.
Cite strong and thorough textual evidence to support analysis of what the text says explicitly as well as inferences drawn from the text.
Analyze how complex characters (e.g., those with multiple or conflicting motivations) develop over the course of a text, interact with other characters, and advance the plot or develop the theme.