"The Necklace" Short Story Unit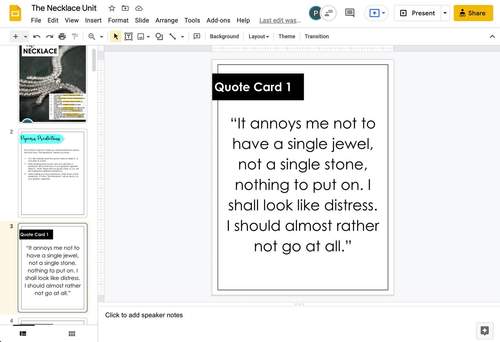 ;
Zip

Google Apps™
Includes Google Apps™
The Teacher-Author indicated this resource includes assets from Google Workspace (e.g. docs, slides, etc.).
Also included in
This is an easy-to-use, print-and-go short story unit bundle that is perfect for your middle school or high school classroom! With challenging activities, teacher annotations, in-depth discussion questions, comprehensive unit tests, and more, this bundle is a rigorous, comprehensive look at FOUR tri

Price $27.00

Original Price $34.25

Save $7.25

These Nine Short Stories included in this bundle are perfect for your middle school classroom! Incorporating more short stories into your curriculum can result in higher student engagement, increased proficiency in citing and justifying textual evidence, and more complex analysis just to name a few!

Price $52.00

Original Price $67.75

Save $15.75
Description
Are you planning to use Guy de Maupassant's "The Necklace" in your classroom? If you're like most teachers, you want a unit that is engaging and comprehensive but doesn't take much of your valuable time to prep. This COMPLETE unit plan for "The Necklace" is filled with fun and challenging activities to get your students engaged in this twist-ending short story. And because it includes everything you'll need, you'll save yourself hours of prep work with this resource.
This unit and all of the activities for "The Necklace" are fun, yet extremely educational. All of these activities ask students to work closely with the text to extract evidence to support their choices. Your students are sure to love this unit, just as ours have! And we think you'll be very happy with what they end up creating.
**THIS RESOURCE IS A PART OF A LARGER, SHORT STORY BUNDLE. SAVE OVER 20% BY PURCHASING THE BUNDLE BY CLICKING HERE!
We have used these activities across all grade levels we have taught – from 5th grade all the way to 12th grade.
INCLUDED IN THIS RESOURCE:
Instructions for Use: Includes detailed, step-by-step instructions for use to help you effectively implement this unit in your classroom.
Popcorn Predictions Activity: A fun pre-reading activity that gets your students up and moving about the classroom to make predictions of the story. Includes sentence strips as well as a recording sheet for students.
Blank Student Copy of "The Necklace" & Teacher Annotated Copy of "The Necklace": In addition to a blank copy of the short story, we've also included a detailed, annotated teacher version to help you lead a close-reading class discussion of the story.
Focusing on Theme Activity: This activity helps students identify various themes throughout the short story and asks them to include evidence and justification for their reasoning to help get them thinking deeper about the story.
Instagram Activity: A fun, yet challenging activity that has students working with symbolism, evidence, and justification.
Evidence Tracker: To help students prepare for an essay / response to literature, this evidence tracker assists them with organizing their thoughts, evidence, and justification. Please note: This evidence tracker is not the same evidence tracker as the stand-alone resource in our store.
Socratic Seminar Questions / Discussion Questions: Includes thought-provoking, open-ended questions to allow students to engage in either a Socratic Seminar discussion or simply a class discussion. Additionally, we've included a Socratic Seminar Observation Checklist, as well as a Socratic Seminar Rubric for you to use as a supplement to running a seminar with your class. Again, you can use these questions as whole-class discussion questions, small group, individual, etc.
"The Necklace" Test with Answer Key: 15 Matching questions that has students match the speaker of a quote to the quote; 9 True or False questions; 6 short answer questions. Answer Key included for the Matching & True/False questions. Short answer questions are open-ended, and no answer key is included for this.
Essay Question: As an additional or even alternative assessment, we've included an essay question that requires students to write a persuasive essay / response to literature. We've included the essay question in two different formats for you. One is just the essay question by itself, while the second is the essay question with a detailed outline for students to follow meant to help them organize their thoughts.
Essay Rubric: We've also included an easy-to-use rubric to make the essay grading process easier for you!
Digital Version: Are you teaching remote learners? No problem! This digital version will guide students through the activities described above, as they engage in learning from home.
***************************************************************************
Looking for more writing resources for your middle school classroom? Check out these other great resources we have in our store.
★ ONE-PAGER CHOICE BOARD - DIGITAL AND PRINT
★ 10 CRITICAL THINKING ACTIVITIES TO BE USED WITH ANY NOVEL
★ EVIDENCE GRAPHIC ORGANIZER FOR LITERARY OR INFORMATIONAL TEXT
★ 7 DAY LITERARY ANALYSIS BOOTCAMP
***************************************************************************
★ Also, make sure to follow us to be notified when we upload new resources! We always do a special discount when we release a new resource, so it pays to follow us! ★
Answer Key
Included with rubric
Report this resource to TPT
Standards
to see state-specific standards (only available in the US).
Cite textual evidence to support analysis of what the text says explicitly as well as inferences drawn from the text.
Determine a theme or central idea of a text and how it is conveyed through particular details; provide a summary of the text distinct from personal opinions or judgments.
Cite several pieces of textual evidence to support analysis of what the text says explicitly as well as inferences drawn from the text.
Determine a theme or central idea of a text and analyze its development over the course of the text; provide an objective summary of the text.
Cite the textual evidence that most strongly supports an analysis of what the text says explicitly as well as inferences drawn from the text.