The One and Only Ivan Novel Study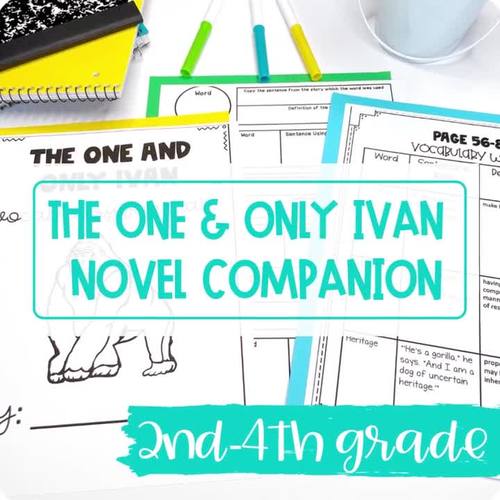 ;
What educators are saying
Great resource. The teaching guide is very helpful and made planning a breeze. Rich activities and vocabulary study.
Also included in
Lemonade War, Because of Winn-Dixie, Stone Fox, The Miraculous Adventures of Edward Tulane, Charlotte's Web, One and Only Ivan and Shiloh novel studies with discussion questions, teaching guide, skill activities for each chapter, novel projects, and quizzes/tests!In every novel unit you will find:1.

Price $33.25

Original Price $47.50

Save $14.25
Description
A novel companion with reading skill activities for each section, vocabulary words, discussion questions, quizzes throughout, a final test, and many final project choices for the novel "The One and Only Ivan" by Katherine Applegate.
Why will this novel study help your students grow?
Engagement- Students love this novel and it will keep them engaged the entire time. They also will love talking about the different skills and questions.
Rigor- This novel touches on complex themes and makes students really think. The questions and quizzes require additional thinking. Plus, in order to create projects or work on the vocabulary words they have to dig deep into their skills!
Low Prep- Print and use!
What's Included?
This is a full unit for the novel The One and Only Ivan. In the unit you will find:
1. A chapter layout with what skill you should teach for every 1-2 chapters
2. Discussion questions for reading
3. An activity to practice the reading skill for every 1-2 chapters. These pages can be projected to work on as a whole class or printed for your students to work on.
4. Quizzes throughout
5. Answer Keys for all quizzes
6. Final Skill Sheets (theme, plot, etc.)
7. A Final Test
8. Vocabulary words and vocabulary practice activities throughout
9. Vocabulary Journal and Test
9. Many project choices so your kids can show their learning!
The skills discussed in this novel are:
Descriptive Words
Visualization
Point of View
Character Traits
Author's purpose
Figurative Language
Text connections
Text Evidence & Sequencing
Main Idea
Inferring
Problem and Solution
Summarizing
Theme
Grab the BUNDLE for Novel Companions Here!
If you like this novel companion check out others here:
By clicking this link you can follow along with The Friendly Teacher! You will get to know when a new product is posted, which is 50% off for the first 24 hours!
Much Love,
The Friendly Teacher
Other AMAZING products you might need:
Report this resource to TPT
Standards
to see state-specific standards (only available in the US).
Ask and answer questions to demonstrate understanding of a text, referring explicitly to the text as the basis for the answers.
Recount stories, including fables, folktales, and myths from diverse cultures; determine the central message, lesson, or moral and explain how it is conveyed through key details in the text.
Describe characters in a story (e.g., their traits, motivations, or feelings) and explain how their actions contribute to the sequence of events.
Determine the meaning of words and phrases as they are used in a text, distinguishing literal from nonliteral language.
Refer to parts of stories, dramas, and poems when writing or speaking about a text, using terms such as chapter, scene, and stanza; describe how each successive part builds on earlier sections.