The One and Only Ivan Novel Study with PRINT & DIGITAL Options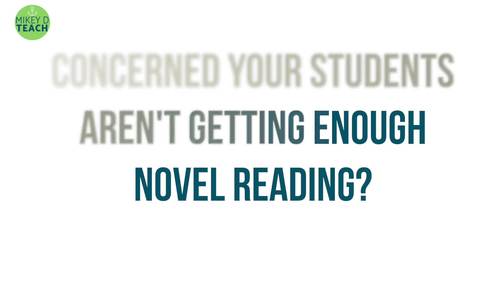 ;
PDF

Google Apps™
Includes Google Apps™
The Teacher-Author indicated this resource includes assets from Google Workspace (e.g. docs, slides, etc.).
What educators are saying
This was a great companion guide to the book. It was well organized and easy to use. The rigor of the questions helped my students gain a deeper understanding of the text.
Super useful and engaging. Allows me to see and check their understanding as well as working on their writing skills! 100% recommend!
Also included in
One of my favorite parts of a school day is the time I get to interact with my intermediate and middle school students. Read-aloud time is a time when we gather together as a community, and my kids LOVE to read novels with me. I've created novel studies for my kids, and now I am bringing them to you

Price $59.00

Original Price $74.75

Save $15.75

The One and Only Ivan is such a great novel for kids. This book explores topics of kindness, friendship, and protecting animals. There are numerous themes and morals in this novel that are great for classroom community! This guide will help your students process through this novel in a way that also

Price $12.20

Original Price $15.25

Save $3.05
Description
The One and Only Ivan is a magical book that is full of wonder, discovery, awe, and social justice. This novel allows students to make a connection with Ivan, a western lowland gorilla, as well as other animals in his habitat. I created this novel study, book activities, read aloud guide, and additional supports to help you teach this wonderful book.
Teaching is time consuming, so I have created this NO PREP novel guide resource to make your planning easier! This unit is truly print-and-go ready!!! There is also access to a Google Slides version of this resource, which is fully compatible with Google Classroom and other learning systems.
This unit was designed with you, the teacher, in mind. This unit will allow your students to access this novel in a deep and meaningful way. At the same time, this resource will save you time and energy. You'll be able to spend more time connecting with this story along with your students!
In addition, the questions and activities posed to the students are not fluffy; instead, they challenge the thinking of your students and engage your class in Reading Standards.
THIS PRODUCT INCLUDES:
➠ Comprehension questions for students. For your planning purposes, the chapters have been broken down into sections. If you are following my unit plan, this novel study will take place in 30 days. Each student will have their own "Ivan's Journal", and the copying and set-up could not be easier! Simply follow the printing instructions included with this product.
➠ Read-aloud questions for you! While I still encourage you to read the novel ahead of your students, I've also taken the work out of this novel and created read-aloud questions to guide each day's read-aloud.
➠ Journal entries for your students. I've included one entry per week! These journal prompts will allow your students to think critically about the novel and process what they are reading.
➠ Colorful posters. I have included one poster for each of the main characters in the novel.
➠ Enrichment Activities. Five activities are included in this novel study that guides students to a deeper understanding of the content.
✨ ENJOY YOUR TIME WITH IVAN, RUBY, BOB, STELLA, JULIA, AND THE REST OF THE AMAZING THE ONE AND ONLY IVAN CHARACTERS!
Related Products
► A Wrinkle in Time Novel Study BUNDLE
► Fish in a Tree Novel Study Unit BUNDLE
► Insignificant Events in the Life of a Cactus Novel Study BUNDLE
► Novel Study for Intermediate and Middle School Reading BUNDLE
⭐ Remember to follow my store by clicking the green star at the top of this page - you'll be the FIRST to know about new products that hit my storefront and have access to sale notifications!
✅ CLICK THE GREEN PREVIEW BUTTON TO TAKE A CLOSER LOOK AT THIS RESOURCE!
I'd love to connect with you! You can find me at the following locations:
Blog * Instagram * Facebook * Twitter * Pinterest
The One and Only Ivan is a registered trademark of Katherine Applegate and HarperCollins.
Teaching Duration
1 month
Report this resource to TPT
Standards
to see state-specific standards (only available in the US).
Read closely to determine what the text says explicitly and to make logical inferences from it; cite specific textual evidence when writing or speaking to support conclusions drawn from the text.
Determine central ideas or themes of a text and analyze their development; summarize the key supporting details and ideas.
Analyze how and why individuals, events, and ideas develop and interact over the course of a text.
Interpret words and phrases as they are used in a text, including determining technical, connotative, and figurative meanings, and analyze how specific word choices shape meaning or tone.
Analyze the structure of texts, including how specific sentences, paragraphs, and larger portions of the text (e.g., a section, chapter, scene, or stanza) relate to each other and the whole.