The Outsiders Digital Escape Room | Reading Comprehension Game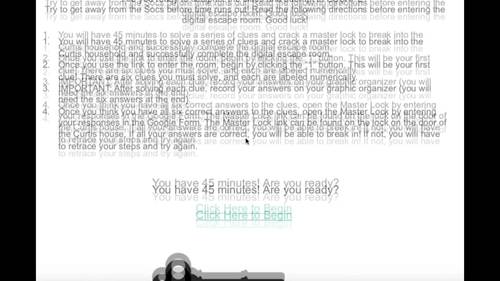 ;
What educators are saying
This resource is well put together. It was easy to organize and teach my students. Students were engaged and challenged.
My kids loved this. They had a healthy struggle with the puzzles but they loved figuring them out! Engaging!
Also included in
Enjoy this extensive Novel Study The Outsiders by S. E. Hinton with your students this year! Analyze the literature using these 25 products included in this complete Unit Plan Bundle. This novel study will allow students to develop their reading comprehension and critical thinking skills through the

Price $19.99

Original Price $38.85

Save $18.86
Description
Your students are going to love deciphering and solving puzzles in this spectacularly themed, The Outsiders 360° digital escape room. This activity is designed to work for a laptop, tablet, or smart phone. Students will solve a series of clues based on the novel The Outsiders by S. E. Hinton in order to crack the master lock and escape the Socs! This game entails reading comprehension skills, finding textual evidence, and making inferences. It's the perfect addition to your novel study, whether just for fun, or to use as a review activity before administering the final test.
Included in this download are teacher instructions, student instructions, the master lock graphic organizer, answer keys, and a reflection sheet (optional).
Check out these fun Escape Room Photo Props to make the experience complete!
PLEASE READ: While using this resource, you must have a Wi-fi connection and the ability to access the following sites: Google Forms, Kuula.co, and JigsawPlanet.com. Please check that these websites are not blocked by your district's filter before purchasing. Please also ensure your district allows viewing access for Google documents from outside your district before purchase.
You may also like!
Teaching Duration
50 minutes
Report this resource to TPT
Standards
to see state-specific standards (only available in the US).
Cite several pieces of textual evidence to support analysis of what the text says explicitly as well as inferences drawn from the text.
By the end of the year, read and comprehend literature, including stories, dramas, and poems, in the grades 6–8 text complexity band proficiently, with scaffolding as needed at the high end of the range.
Cite the textual evidence that most strongly supports an analysis of what the text says explicitly as well as inferences drawn from the text.
Determine a theme or central idea of a text and analyze its development over the course of the text, including its relationship to the characters, setting, and plot; provide an objective summary of the text.
Analyze how particular lines of dialogue or incidents in a story or drama propel the action, reveal aspects of a character, or provoke a decision.