The Periodic Table Game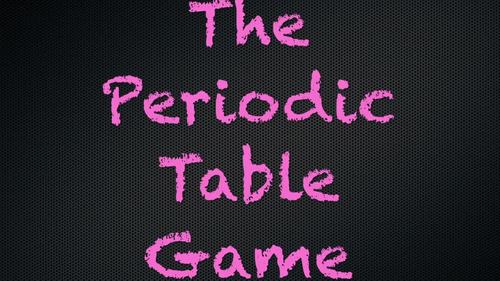 ;
Also included in
Enjoy two great lessons that compliment each other with a perfect blend of digital and traditional hands-on learning. After completing the Elements and the Periodic Table Interactive eLesson, students can use what they learned playing the engaging Periodic Table Game!

Price $23.00

Original Price $27.00

Save $4.00

Purchase as a BUNDLE and save on these popular products:Building a Periodic TableBuilding Atomic ModelsThe Periodic Table Game

Price $29.40

Original Price $42.00

Save $12.60
Description
The Periodic Table Game will keep your students engaged for hours as they race across the Periodic Table of Elements to be the first to reach Element 118, Oganesson. In groups of 2-4 players, students will present each other with Element Game Cards and provide clues as needed. Depending upon the number of clues needed to identify the Element, a player will advance along the Periodic Table. If a player lands on certain spaces (Elements) they must pick an Atomic Card which can cause them to lose a turn, move forward or backward, or send them clear across the Periodic Table! Questions are designed to challenge all age levels because clues get progressively easier giving more value to identifying the Element with fewer clues. The game is designed to make mastery difficult so students can play over and over and still be challenged. If they ever do master the Periodic Table, that would be a really good problem to have!
The Game Board and Game cards work best if printed on card stock but regular paper will also work. The Game Board is assembled from four sheets and has a finished size of 15 x 20.5 inches. Students can help color, cut out, fold, and glue the 118 Element Game Cards and the 52 Atomic Cards. Students can choose from 9 different 3 dimensional Game Tokens to assemble with a weighted base (a nickel works great).
New ... updated game cards to include both color and black and white versions. Game cards have been redesigned to lay flat when folded.
The Periodic Table Game is available as a stand alone product or it can be purchased along with its companion activity Elements and the Periodic Table Interactive eLesson / Periodic Table Game BUNDLE. Be sure to check out the bundle before making a decision to Purchase.
See also:
Read more about Interactive HTML5 lessons at gonyoscience.com
Report this resource to TPT