The Progress of Humanism in Renaissance Art | Station Activity and Art Analysis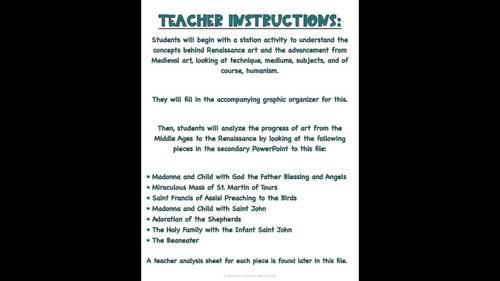 ;
Also included in
This bundle covers the following topics from most World History Unit 2 Curriculums:⭐ Reformation (including Martin Luther's 95 Theses and other Reformation Leaders)⭐ Renaissance (including the rise of City-States, Humanism, and Art)⭐ Scientific Revolution (including advancements and people)Each has

Price $19.99

Original Price $24.93

Save $4.94

This bundle covers the following topics from most World History Renaissance Unit Curriculums:⭐ Rise of City-States⭐ Humanism⭐ Art and ArtistsEach has a variety of activities, including reading comprehension, graphic organizers, hands-on activities, and research assignments.You can also see each indi

Price $9.99

Original Price $12.96

Save $2.97

This bundle covers the following topics from most World History Unit 2 Curriculums:⭐ Reformation (including Martin Luther's 95 Theses and other Reformation Leaders)⭐ Renaissance (including the rise of City-States, Humanism, and Art)Each has a variety of activities, including reading comprehension, g

Price $14.99

Original Price $19.94

Save $4.95
Report this resource to TPT
Standards
to see state-specific standards (only available in the US).
Cite specific textual evidence to support analysis of primary and secondary sources, attending to such features as the date and origin of the information.
Determine the central ideas or information of a primary or secondary source; provide an accurate summary of how key events or ideas develop over the course of the text.
Analyze in detail a series of events described in a text; determine whether earlier events caused later ones or simply preceded them.
Determine the meaning of words and phrases as they are used in a text, including vocabulary describing political, social, or economic aspects of history/social studies.
Analyze how a text uses structure to emphasize key points or advance an explanation or analysis.