The Teaching Poetry eBook: Pedagogy & Best Practice Volume 1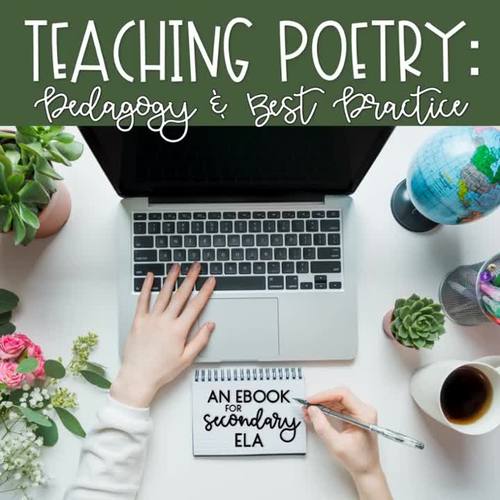 ;
Higher Education
,
Homeschool
,
Staff
PDF

Google Apps™
Includes Google Apps™
The Teacher-Author indicated this resource includes assets from Google Workspace (e.g. docs, slides, etc.).
What educators are saying
This helped take a lot of the guess-work out of teaching poetry, and gave me the confidence needed to lead students through analysis!
This has been a game changer in how I teach poetry and I feel like my students feel more confident in their ability to read poetry!
Description
TEACHING POETRY is a guidebook for teachers looking for professional development to support their poetry instruction.  It is my way of helping teachers who are lost in their poetry instructional journeys find their way back to their confident, brilliant selves. The book is filled with advice, ideas, and poem recommendations that are accompanied by summaries and teaching points from me (not ready to print lessons, to be clear). The book also contains three tutorial videos where I walk you through how I would approach teaching the poems myself. So, what are you waiting form? Go grab a highlighter or your digital device and hunker down for some thought-provoking reading!
WHAT'S INCLUDED?
PEDAGOGY:
The first fifteen pages are a deep dive into my philosophy in approaching poetry instructions.  This section encourages you to think about the WHY behind poetry instruction and the possibilities it presents to your students in terms of social justice, specifically. I provide instructional models and an in-depth overview into The Big Six model for teaching poetry analysis.  Read this on your device or print and highlight as you like!
This section includes:
An introduction to my experiences teaching poetry
An overview of instructional pedagogy: approaching poetry from a social justice point of view
An infographic detailing Teaching Poetry Goals
An in-depth overview of my poetry analysis tool: The Big Six
A lesson planning template
A Teaching Poetry FAQ section with in-depth answers
PRACTICE:
When it comes to best practices, connecting your poetry instruction to your content is a critical first step - otherwise, poetry becomes an outlier.  So, to help you do this, I've provided three different ways to consider blending poetry into your current curriculum:  novels, themes, and skills.  Each category contains an annotated list of poems to teach, including three different video tutorials where I model for you my approach. 

This eBook is only the first edition! 
Our world evolves, changes, and so does poetry, so you better believe I'm ready for that!  But for now, let me introduce you to the Spring 2020 Edition of Teaching Poetry:  

THIS SECTION INCLUDES:
Poetry & Novels: 
Of Mice and Men, The Great Gatsby, and The Catcher in the Rye
I have provided poems to teach, ideas for poems to write, and an additional annotated list of poems to consider teaching during any unit covering each of these three novels. 
Poetry & Themes:
The immigrant & refugee experience, exploring a utopian & dystopian future, and social justice-seeking voices
This section of the book provides an annotated bibliography of poems to teach in units that touch on these particular themes.  Certainly, the poems can be used a wide variety of other contexts, but notes and ideas are provided within these ideas.
Poetry & Skills:
Using poetry to teach argument, using poetry to teach imagery, and using poetry to teach metaphor
For each of these skills, I've provided an annotated bibliography with teaching point ideas.  These poems could be taught at any point during the year and paired up with another text that features the same skills.
------
Whether of not you are currently teaching any of these novels, themes, or skills, you will still find valuable advice and ideas for poems that can be integrated into a wide variety of units in your classroom.
You might also be interested in these other resources from Mud and Ink Teaching:
Don't forget that leaving feedback earns you points toward FREE TPT purchases, so let me know how everything is working out! 
© Mud and Ink Teaching Please note - this resource is for use by one teacher only. Additional teachers must purchase their own license. If you are interested in purchasing several licenses, please let me know. Good luck on your adventurous teaching journey!
mudandinktpt@gmail.com
Let's Stay Connected!
Report this resource to TPT