The Tell Tale Heart Activities | Comic Book Project | Edgar Allan Poe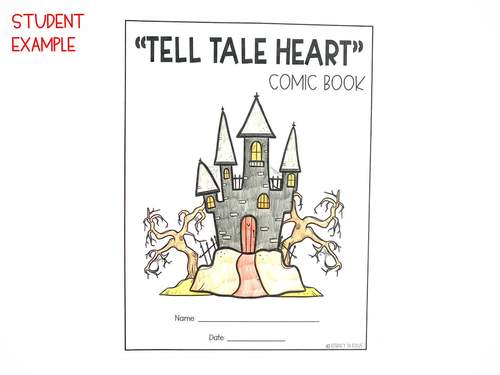 ;
What educators are saying
A great resource for student engagement for what can be a difficult text. I will continue to use it.
Loved giving students a comic strip as a choice in the lessons. Most students chose this option and loved it. Great resource!
Description
Your students will transform Edgar Allan Poe's "Tell Tale Heart" into a comic book! Two comic book templates are included with this product: a comic book template with the "Tell Tale Heart" narrative included or a blank comic book template for students to write their own narrative. Both serve as an excellent assignment for reviewing the plot of Edgar Allan Poe's "Tell Tale Heart".
INCLUDED WITH YOUR PURCHASE:
"Tell Tale Heart" Comic Book Cover Page: A comic book cover page is included for students to color and write their name.
"Tell Tale Heart" Comic Book Template- Narrative Included: The first template is four pages long and includes the narrative for "Tell Tale Heart". In order to complete the assignment, students add illustrations and dialogue to a total of ten comic book scenes. The scenes cover the entire plot of a "Tell Tale Heart" in a summarized version with contemporary language.
Blank Comic Book Template: The blank comic book template works well for advanced students that want to create their own version of a "Tell Tale Heart" comic book. The blank comic book template includes ten comic book scenes that span across four pages.
Examples: A completed comic book is provided to give you an idea of what the final product might look like.
ADDITIONAL RESOURCES YOU MIGHT BE INTERESTED IN:
"Tell Tale Heart" Differentiated Close Read- Explore Poe's Use of Tone and Mood!
"The Cask of Amontillado" Activities - Focus on Literary Devices
All About Pumpkins - Reading and Writing Unit
Character Resume and Cover Letter- Works With Any Literary Character!
Want a FREE resource each month? Click HERE to follow Literacy in Focus, and you will be sent the monthly freebie!
Thank you!
©Literacy In Focus
Report this resource to TPT
Standards
to see state-specific standards (only available in the US).
Determine central ideas or themes of a text and analyze their development; summarize the key supporting details and ideas.
Analyze how and why individuals, events, and ideas develop and interact over the course of a text.
Analyze the structure of texts, including how specific sentences, paragraphs, and larger portions of the text (e.g., a section, chapter, scene, or stanza) relate to each other and the whole.