The Ultimate Sight Word Bundle Kindergarten Sight Word Practice Morning Work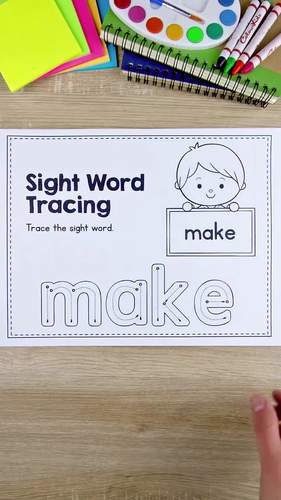 ;
What educators are saying
My students loved using this to help learn their sight words. I have a couple students who have sight words as their IEP goals and this helped so much!
My students LOVE using these sight word pages. We use them almost daily!!!! So excited I found these because they work perfectly for us!!!
Description
⭐⭐⭐ FLASH SALE ⭐⭐⭐  FLASH SALE! GET THE ULTIMATE SIGHT WORD BUNDLE FOR JUST 19! ($190 VALUE)

Grab The Ultimate Sight Word Bundle for just $19! You can wait, but the time is running out! 
Your students can practice sight word reading, tracing, writing, identification, building,  and more.
Low Prep Required. Simply print and go,
Perfect for centers, homework, morning work, and more. 
WHAT IS INCLUDED IN THIS BUNDLE:
Sight Word Practice Books:

Preschool (1,000 pages, 40 sight words - valued at $30)
Kindergarten (1,300 pages, 53 sight words - valued at $30)
1st Grade (1,025 pages, 41 sight words, - valued at $30
BONUSES:

Digital Sight Word Centers for Google Slides and SeeSaw (valued at $50) - Preschool, Kindergarten, and 1st Grade 
Sight Word Practice Worksheets (220 pages, from Prek to 3rd Grade - valued at $10) )- preview here
Editable Color by Code Bundle - (includes 4 seasons and 19 holidays - valued at $30) )
SIGHT WORDS INCLUDED:
Pre-K Sight Words (40 words) a, and, away, big, blue, can, come, down, find, for, funny, go, help, here, I, in, is, it, jump, little, look, make, me, my, not, one, play, red, run, said, see, the, three, to, two, up, we, where, yellow, you
Kindergarten Sight Words (52 words) all, am, are, at, ate, be, black, brown, but, came, did, do, eat, four, get, good, have, he, into, like, must, new, no, now, on, our, out, please, pretty, ran, ride, saw, say, she, so, soon, that, there, they, this, too, under, want, was, well, went, what, white, who, will, with, yes
First Grade Sight Words (41 words) after, again, an, any, as, ask, by, could, every, fly, from, give, going, had, has, her, him, his, how, just, know, let, live, may, of, old, once, open, over, put, round, some, stop, take, thank, them, then, think, walk, were, when
1st 100 Fry Sight Words (#1-100) a, about, all, am, an, and, are, as, at, be, been, but, by, called, can, come, could, day, did, do, down, each, find, first, for, from, get, go, had, has, have, he, her, him, his, how, I, if, in, into, is, it, its, like, long, look, made, make, many, may, more, my, no, not, now, number, of, on, one, or, other, out, part, people, said, see, she, so, some, than, that, the, their, them, then, there, these, they, this, time, to, two, up, use, was, water, way, we, were, what, when, which, who, will, with, words, would, write, you, you
THIS DONE-FOR-YOU SIGHT WORD BUNDLE MAKES LEARNING EASY AND FUN!
Your students can easily learn through play using colorful sight word centers.
You don't have to search the internet for hours on end because you have the perfect sight word bundle one click away.
You have a step-by-step plan for how to teach each sight word from Preschool to 1st Grade.
You can use a bundle created by a teacher with 10 years of experience in the classroom
WHY YOU SHOULD CHOOSE THIS BUNDLE
Save money that you'd spend buying individual activities.
Save time. Get your after-school hours and weekends back and spend more time with your loved ones.
Don't let your students fall behind. Once a child learns to recognize and identify words on a sight word list, they will be able to read about 75% of the words in most children's books. 
Practice a wide variety of skills: fine motor skills, pencil control, word recognition, tracing, word identification, writing, reading sentences, and more.
FILE DETAILS:
This product is contained in PDF file. Be sure that you have an application to open this file type before downloading and/or purchasing.
THANK YOU!
I really appreciate you purchasing my teaching resources and I hope you'll enjoy using them in your classroom.
If you'd like to receive notifications when I upload new products and freebies please FOLLOW ME HERE. Don't forget, new products are 50% off for 24 hours after they are posted!
TERMS OF USE:
You can reproduce the pages for classroom use only. Duplication for commercial purposes or for the entire school is strictly forbidden.
Report this resource to TPT
Standards
to see state-specific standards (only available in the US).
Recognize and name all upper- and lowercase letters of the alphabet.
Know and apply grade-level phonics and word analysis skills in decoding words.
Demonstrate basic knowledge of one-to-one letter-sound correspondences by producing the primary sound or many of the most frequent sounds for each consonant.
Read common high-frequency words by sight (e.g., the, of, to, you, she, my, is, are, do, does).
Know and apply grade-level phonics and word analysis skills in decoding words.