The Urban Game Five Points New York City Immigration Industrialization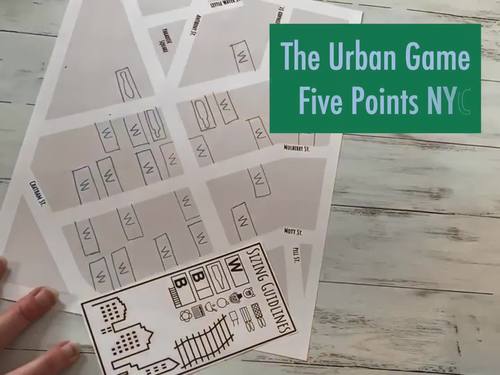 ;
What educators are saying
Students had so much fun with this resource. They understood the larger concepts while being able to draw and create their own maps.
This was really fun and watching the students reactions were funny. It really helped them connect to the concept of urbanization and industrialization!
Also included in
This popularly requested resource is here! This is a GROWING BUNDLE for resources related to the 2nd half of U.S. History. Any resources I create for the 2nd half of U.S. History will be added to this bundle. Eventually, you will have full access to a Word Wall, at least 11 full units of study, plan

Price $159.95

Original Price $251.15

Save $91.20

Within this unit, students will analyze the complex forces that led to industrialization during the Gilded Age. They'll examine the influx of different immigrant groups, see how these groups struggled and persevered in the U.S.. discuss the development of capitalism and industry, and analyze reactio

Price $24.95

Original Price $38.35

Save $13.40
Description
With this activity, students will literally visualize the changes that came to Five Points in New York City in the late 1800s. Styled like the classic Urban Game, students will add in details to a map of Five Points to see the changes that took place. They will learn about Omnibuses, organ grinders, the major immigrants to five points, dumbbell tenements, street vendors. and much more! Students will also learn about the Chinese Exclusion Act and Tammany Hall.
Included in this resource:
A PowerPoint Version (editable)
A PDF Version (not editable)
A Google Doc Version (provided on the front page by a link to make your own copy for editing)
Check out my other lessons from the Unit:
☆ The Second Industrial Revolution
☆ Immigration and Settlement Stations Activity - 1880s - 1920s
☆ The Urban Game! - Five Points New York City
☆ The Gilded Age Viewing Guide PBS American Experience
☆ Ellis Island and Angel Island - Virtual Tour
☆ Big Business - The Industrialists - Carnegie and Rockefeller
☆ Child Labor - Primary Source Analysis
☆ Labor Strikes of the Late 1800s - Haymarket Bombing (May Day Strike), Homestead Strike, and the Pullman Strike
☆ Industrialization - Vocabulary Word Wall
------------------------------------------------------------------------------------------------------
Tips for Customers:
Follow my store to be the first to know when I launch new products. Simply click the little green star next to my name, and my new products will appear on the front page of your TPT account.
Did you know you can earn TPT credit towards future purchases?
Make sure you're logged into your account and find your My Purchases page. For each purchase you've made, make sure to leave feedback. This feedback earns you credit towards future purchases - it's like free TPT money! Feedback is very important to me, as it helps me to create new products. If you have any questions regarding a TPT product you've purchased from me, simply e-mail me at peacefieldblog@gmail.com
You can find more Social Studies resources, links, and discussion at my blog - peacefieldhistory.com
Answer Key
Does not apply
Teaching Duration
45 minutes
Report this resource to TPT