The Yellow Wallpaper Digital Escape Room | Reading Comprehension Game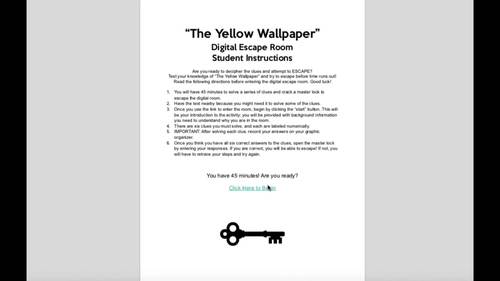 ;
Compatible with Digital Devices
The Teacher-Author has indicated that this resource can be used for device-based learning.
What educators are saying
This was really easy to use and fun for my students! Thirty minutes is probably a better time frame for 11th graders to make it challenging, but I loved the 360 version of the room. So cool!
Also included in
This bundle includes two products for the gothic, feminist, short story "The Yellow Wallpaper" by Charlotte Perkins Gilman.1. Literary Analysis: includes an activating strategy, brief background on mental health, and reading comprehension/analysis questions which focus on short story devices such as

Price $7.99

Original Price $8.98

Save $0.99
Description
Your students are going to love deciphering and solving puzzles in this 360° digital escape room. This activity is designed to work for a laptop, tablet, or smart phone. Students will solve a series of clues based on the story "The Yellow Wallpaper" by Charlotte Perkins Gilman in order to crack the master lock and escape the room. This game entails reading comprehension skills, finding textual evidence, and making inferences!
Included in this download are teacher instructions, student instructions (digital), the master lock graphic organizer, answer keys, and a reflection sheet (optional).
Watch the video preview for a closer look of what you will be purchasing!
Check out these fun Escape Room Photo Props to make the experience complete!
PLEASE READ: While using this resource, you must have a wi-fi or cellular data connection and the ability to access the following sites: Google Forms, Youtube.com, Kuula.co, and JigsawPlanet.com. Please check that these websites are not blocked by your district's filter before purchasing.
Teaching Duration
50 minutes
Report this resource to TPT
Standards
to see state-specific standards (only available in the US).
Cite strong and thorough textual evidence to support analysis of what the text says explicitly as well as inferences drawn from the text.
Determine a theme or central idea of a text and analyze in detail its development over the course of the text, including how it emerges and is shaped and refined by specific details; provide an objective summary of the text.
Analyze how complex characters (e.g., those with multiple or conflicting motivations) develop over the course of a text, interact with other characters, and advance the plot or develop the theme.
Determine the meaning of words and phrases as they are used in the text, including figurative and connotative meanings; analyze the cumulative impact of specific word choices on meaning and tone (e.g., how the language evokes a sense of time and place; how it sets a formal or informal tone).
Read closely to determine what the text says explicitly and to make logical inferences from it; cite specific textual evidence when writing or speaking to support conclusions drawn from the text.