Theater Arts Lin Manuel Miranda Hamilton Performer and Composer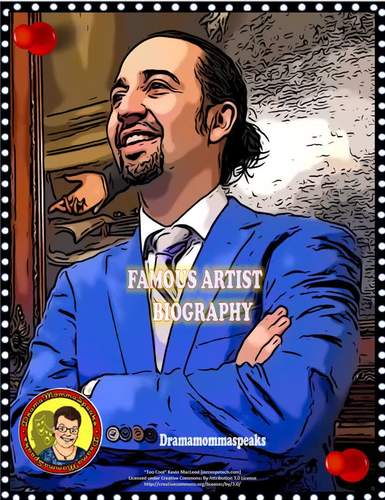 ;
Easel Activity Included
This resource includes a ready-to-use interactive activity students can complete on any device. 
Easel by TPT is free to use!
Learn more
.
What educators are saying
I used this in conjunction with the Hamilton unit, and I students really enjoyed it. Thank you for putting this together!
My students really enjoyed this lesson. The resources were great and they loved putting together the rap!
Also included in
Save 30! This growing bundle is focused on 16 biographies of professional theater artists. Suitable for middle grade and high school students, the biographies include a description of the artists' journeys to success in their field, trivia, quotes and suggested video clips. A teacher could use these

Price $37.63

Original Price $53.75

Save $16.12

30% Discount This bundle is perfect for the new theater teacher or those looking for unique and innovative resources. This bundle (280 pages) has everything you need to teach a drama class for a semester, quarter or month (depending upon how many times you see your students.) I created these lesson

Price $43.05

Original Price $61.25

Save $18.20

20% OFF! Four of my most popular products! 126 pages! Here is EVERYTHING you need: a MONTH and a HALF'S worth of engaging, unique and creative learning lessons and units about drama. It is suitable for middle and high school drama or gifted classes. Do you follow me? If not, I hope you will: FOL

Price $28.40

Original Price $35.00

Save $6.60

DISCOUNT 30%! Are you looking for year-long theater education curriculum and help from an award winning, veteran drama teacher? I created a gigantic bundle of drama lessons, units and plays to help you! This bundle includes 49 products (NEARLY 1,500 PAGES) which were all created by me and time test

Price $199.14

Original Price $282.71

Save $83.57

Save 30%! Here is a bundle (560 pages) of theater lessons and units created especially for high school. Theater classes can be more than scenes, improvisation and monologues. There are more than enough lessons here to study in high school, especially for second semester beginning theater students--

Price $107.43

Original Price $153.47

Save $46.04

SAVE! This GROWING bundle contains biography lessons concerning Broadway musical composers! Two different formats are available--one composer's biography is a newspaper and the others are presented as a select group of questions (no two set of questions are alike) focused on the composer's life, a

Price $20.23

Original Price $26.75

Save $6.52
Description
Here's a close reading lesson to re-energize your class 1 l/2 days in length! Talk about making it easy on yourself, huh? This biography (formatted like a newspaper) about the performing artist Lin Manuel Miranda of Hamilton fame, is suitable for middle and high school students and can be used as a stand alone lesson or with other biographies. Each lesson in the Places Please series is tailored to the strengths of that particular artist.
In addition, a teacher could assign this lesson to students distance learning. #DistanceLearningTPT
The Teacher will need access to the Youtube.com
Note: I have created a digital version of this biography which is included in the cost of the product. I placed answer boxes on the question page to make it easier for you to use. I hope it helps!
Need a quick emergency lesson plan? Or one for a substitute? This is part of many bundles if you want to save on your purchase.
This Product includes:
A Complete Bio about Lin Manuel Miranda
A Suggested Lesson, an Exercise in Rapping, Which Complements the Learning
Important Dates in His Life
Trivia
Awards He Has Won
Quotes from Miranda
Questions and Answer Sheet
Source & Links to Movie Examples
And More!
This is a unique and engaging product is created by an award-winning, veteran drama teacher of thirty-eight years.
Do you follow me? If not I'd love it if you would! Follow me
Check out my other TPT products at:
Here's what reviewers have said of Dramamommaspeaks products:
Storytelling with Student Created Pictures
"This is a great very well written resource and very good for text comprehension! Thank you!"
"This is such a wonderful and creatively made resource!"
Jig Saw Puzzle Pieces Storytelling
"Love this activity! What a great way for students to work together!"
Earning TPT Credits
• Do you want credit for future TPT purchases? Just provide feedback for resources you purchase. Click on the "provide feedback" button next to your purchases, rate the resource, and leave a short comment. (You need to do both to earn credits.)
You receive 1 TPT credit for each dollar you spend, and you can spend it just like cash on future Teachers Pay Teachers purchases.
Report this resource to TPT