Thematic Writing Center (Second Grade)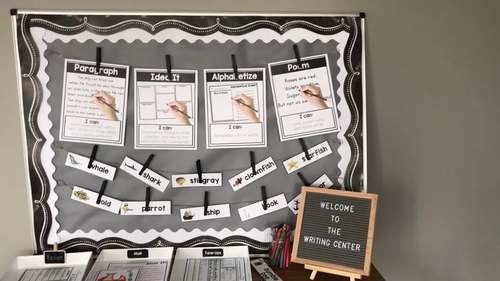 ;
What educators are saying
So far I've used it at home in the summer to get my kids to practice writing. I'm looking forward to using this in the fall. Thank you!
WOW!!! I can't get over how much this set includes! It's the perfect writing center for 2nd grade and my students LOVE it!
Description
What is the Thematic Writing Center?
The Second Grade Thematic Writing Center includes word cards and independent writing sheets for the entire school year. Each month covers ten themes for a total of 90 themes. The themes can be interchanged between any months. The themes are independent of one another and can be swapped to fit your needs. Each theme has 5 word cards for a total of 450 word cards. These cards come with nonfiction/realistic photographs. The cards can be displayed for students to access. Along with the word cards, each theme comes with twelve activities. The twelve activities are repeated for every theme so that the task only has to be taught once.
Watch THIS VIDEO to HEAR and SEE more about the program!
What is included in this Second Grade Thematic Writing Center?
- 450 nonfiction word cards (5 word cards per 90 themes)
- 12 activity posters (2 sizes available)
- 8,500 activity sheets (950 pages per month)
- Start Up Guide
What makes THIS writing center so unique?
This writing centers rocks SIMPLISTIC BLISS! What does that mean? This packet allows you to teach the 12 activities and then have them simply repeat for each theme! This allows you TIME that you are not repeating directions each month!
This writing center offers SO MANY themes that you can easily combine and swap themes. If you are teaching lifecycles, you can pull out all of the lifecycle themes and teach them at once!
Please view the attached preview to SEE the packet up and close!
What themes are included?
Just a reminder that the themes are independent of one another! You can swap the themes to any month you need!
September:
Apples
School
Transportation
Fairy Tales
School Helpers
Park
Family
Feelings
School Supplies
School Subjects
October:
Halloween
Fall Animals
Fire Safety
Owls
Fall
Pumpkins
Jungle Animals
Three Little Pigs
Three Little Bears
Three Billy Goats
November:
Thanksgiving
Baking
Then and Now
Scarecrows
Veteran's Day
Maps & Globes
Community
Bees
Reptiles
Mammals
December:
Reindeer
Gingerbread
Christmas
Holidays
Needs
5 Senses
Polar Express
Winter
Colors
Manners
January:
New Year
Arctic Animals
Snow
Bears
Winter Sports
Woodland Animals
Hibernation
The Mitten
Penguins
MLK
February:
Dental Health
President's Day
Valentine's Day
Germs
My Body
Friendship
Groundhog's Day
Castles and Kings
Western
Travel
March:
St. Patrick's
Dinosaurs
Moon
Snakes
Spring
Pond
Pets
Construction
Exercise
Healthy Food
April:
Easter
Frogs
Butterflies
Plants
Weather
Farm
Bugs
Space
Ponies
Chickens
May:
Zoo
Ocean
Community Helpers
Pirates
Beach
Summer
Bedtime
Koalas
Picnic
Camping
What activities are included in the writing center?
Just a reminder that these TWELVE activities are replicated for all 90 THEMES!
The following activities are included for each of the 90 themes. Each of these systematic activities allow you the simplistic bliss of teaching the activity only one time for the entire school year. Each of the activities include five versions for variety and differentiation.
- Poems
- Recipes
- Paragraphs
- Idea It (Story Map & Writing)
- Alphabetizing
- Greeting Cards
- Tune-Ups
- Mail (Letters and Post Cards)
- Lists
- Booklets
- Free Write Story
- Story Starters
Do you offer this bundle for K-1?
Yes! I have a Kindergarten and First Grade versionHERE!
What is different from this bundle and the K-1 bundle?
This is an all new bundle from the K-1 writing thematic center! This bundle has new brand new activities: alphabetizing, poems, recipes, paragraphs and idea it! This bundle has second grade appropriate writing lines and more rigorous tasks! Please view the attached preview to see a theme so that you can decide if it works for your class!
Questions?
Please email me at littlemindsatworkllc@gmail.com
Would you like to receive notifications for my newly released packets and upcoming sale? Be sure to FOLLOW ME here on TPT!
**Join my private Facebook Group to join fellow Pre-K, Kindergarten, First Grade and Second Grade teachers that use my curriculum! Collaborate, chat and share ideas with like-minded teachers! Join the private Facebook group H E R E!
Visit my blog Little Minds at Work
Follow me on Facebook
Report this resource to TPT