Theme Lesson Plans - Passages, Theme vs. Main Idea, and more!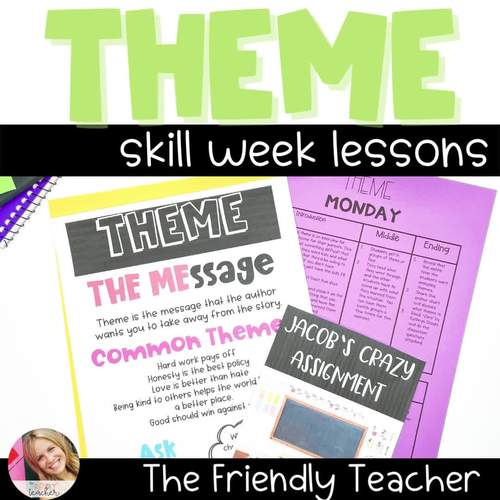 ;
What educators are saying
This was a great resource to use in my instruction on theme. I used this resource in small group instruction. My students enjoyed the lessons and were engaged.
Yet another great resource for teaching a difficult topic! The lesson plans were engaging while still being content heavy!
Also included in
Do you want your students to fully comprehend all of the reading skills that are taught for reading comprehension? This 17 unit bundle teaches each reading skill completely through engaging and rigorous lesson plans. This bundle includes 17 full-week units with whole group and small group lesson pla

Price $45.75

Original Price $91.25

Save $45.50
Description
A weeks worth of engaging lesson plans to teach theme. The lessons include small group, whole group, intervention, and enrichment. These lesson plans are designed to be low prep for the teacher but keep your kids engaged and challenged the entire week!
There is a whole group and a small group lesson for each day so that you can differentiate and reach each learner.
All the materials are provided, besides books. All the lessons are engaging, low prep, and rigorous for your upper elementary students.
What can you find in the lessons each day?
A whole group lesson that focuses on an aspect of theme
A small group activity that can be done during small group time
An enrichment or bonus activity
A intervention tip, idea, or activity
Answer Keys
Assessment
Everything you need to teach the lessons
Why these lessons?
- I saw that my students needed more engagement and relation to their real life in order to fully understand the skills, so I created these lessons to keep kids excited and involved the whole time.
- We start with a real life lesson, then practice as a whole group, work in a small group, work in partners, and finally work alone. We start with support on the skill and slowly take it away to really push the kiddos.
The lessons keep kids thinking the entire time and push them to reach their potential.
- These lessons just need to be printed, copied, and they are ready to go! Most activities require little work beforehand for the teacher which makes a teachers busy life easier!
The lessons include:
Monday- Whole group introduction lesson called "My Hardship". Students will interview their parents or look at their own hardship to look at the lesson or THE Message that it taught it! Do a theme anchor chart and read, "Zero" by Kathryn Otoshiand do the discussion questions attached.
Tuesday- Watch 10 Disney clips to look at different themes. Read, "Ida, Always" by Caron Levis and do the discussion questions. Then, do a drawing reflection to go with the book and focus on theme.
Wednesday- Use a anchor chart to learn the difference between theme and main idea. Watch a video. Read "The Hundred Dresses" by Eleanor Estes and discuss main idea and theme with the class. (This book is mainly for discussion purposes so students can see the compare and contrast. You can do this with any book of your choosing).
Play main idea and theme matching then write a story that has a main idea and theme.
Thursday- Watch and listen to fables to identify theme. Do a fable project in partners that can either use technology or be technology free.
Friday- Look at many pictures to analyze a theme and see how it relates to their real life. Read, "Love" by Matt dela Pena and do the discussion questions provided. Students will make a LOVE poster. Then, give the assessment.
There is one small group lesson per day. You can do this with every group or just do the lessons you think the groups need. You differentiate them by what books you choose.
Monday: Look at theme cards and apply them to real life. Then, read the provided short story called "Jacob's Crazy Assignment".
Tuesday: Reread the story from yesterday and complete a THE Message sheet.
Wednesday: Practice looking at the difference between main idea and detail. Then, read the story provided, "Johnny's Journey" and look at theme.
Thursday: Use EPIC to read a story and then complete a FULL guided reading lesson plan worksheet together.
Friday: Draw a theme and write a story.
Many people choose to teach theme with a topic like "acceptance" instead of an actual theme definition. I choose to teach it with the definition because it is what many of the state standards say and also it makes students think at a higher level.
Report this resource to TPT
Standards
to see state-specific standards (only available in the US).
Ask and answer questions to demonstrate understanding of a text, referring explicitly to the text as the basis for the answers.
Recount stories, including fables, folktales, and myths from diverse cultures; determine the central message, lesson, or moral and explain how it is conveyed through key details in the text.
Compare and contrast the themes, settings, and plots of stories written by the same author about the same or similar characters (e.g., in books from a series).
Determine a theme of a story, drama, or poem from details in the text; summarize the text.
Compare and contrast the treatment of similar themes and topics (e.g., opposition of good and evil) and patterns of events (e.g., the quest) in stories, myths, and traditional literature from different cultures.