Themed Take Home Sheets for Speech Therapy Carryover: GROWING BUNDLE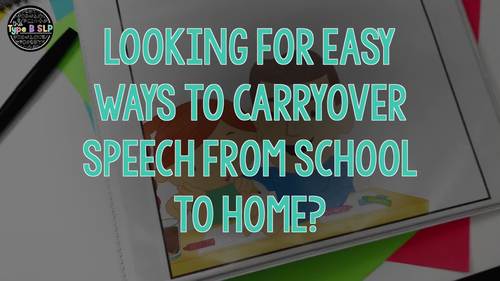 ;
What educators are saying
I love this resource! I love that I quickly fill these out after a session and keep all my students' parents in the loop so they can ask questions at home.
Thank you so much! This makes it easy to send home activities to match themes- I just wish I had one for EVERY theme!
Description
If you struggle sending home simple carryover or easy homework for your speech students, these no prep worksheets are for you! This HUGE resource will give you TONS of themed carryover worksheets to send home to parents and caregivers for speech therapy, covering many goals on your caseload.
How to use these themed carryover homework worksheets:
Send the half sheet home for a quick review (give parents a brief overview of your themed session)
OR complete the full size sheet as an end-of-session review with your student before sending home your worksheet for carryover! Parents can complete and/or review the activities, giving an opportunity for at-home practice and multiple exposures to your themes, targets, and vocabulary.
Full size carryover sheets include extra activities and goal areas for easy themed practice and carryover. Also includes bonus hands-on ideas parents can do at home that cost $0, and are easy to implement for expanding language!
These themed carryover homework worksheets are perfect for the pediatric SLP if…
you LOVE using themes in speech therapy!
you want to use one product for your entire preschool/elementary caseload
you have a lot of mixed groups
you have many different goals to target on your caseload
you want to give parents insight into your sessions without overwhelming then
you want to get some easy buy-in at home!
you don't have time to laminate and prep a bunch of materials (print and go... that's it!)
THIS IS A . NOT ALL THEMES ARE CURRENTLY INCLUDED. BUY IT AT ITS LOWEST RATE NOW BEFORE MORE THEMES ARE ADDED AND THE PRICE GOES UP!
SPRING THEMES
Easter
Spring
Earth Day
Garden
Weather
Bugs
Picnic
SUMMER THEMES
Beach
Ocean
Summer
Camping
Pets
Zoo
Rain Forest
Forest
Dinosaurs
FALL THEMES
Back to School
Pirates
Monsters
Fall (General)
Halloween
Thanksgiving
Baking
Food
Apples
Pumpkins
Spiders
WINTER THEMES
Gingerbread
Christmas
Hanukkah
Arctic
Winter (General)
Winter Sports
Valentine's Day
St Patrick's Day
Snowmen
MISC THEMES
Community Helpers
Fire Safety
Dental Hygiene
Transportation
Technology
Space
Body/Anatomy
Feelings/emotions
Clothing
Home
Basketball
Football
Sharks
Dogs
Cats
BUNNIES
pond life
Yeti
Groundhogs
Squirrels
Dragons/mermaids/unicorns
desert
Safari
Pizza
Tacos
Ice Cream
Grocery Store
Restaurant
Fairy Tales
Cinco de Mayo
Mothers Day
Fathers Day
Construction/tools
THIS IS A . NOT ALL THEMES ARE CURRENTLY INCLUDED. BUY IT AT ITS LOWEST RATE NOW BEFORE MORE THEMES ARE ADDED AND THE PRICE GOES UP!
FOLLOW MY TPT STORE:
As a follower you will learn about new products that are released, sales and discounts. Click on the "Follow Me" by my Type B SLP logo to stay up to date!
SAVE BY LEAVING FEEDBACK ON PURCHASES
If you leave feedback on any of my products you can build up TPT credits that may be applied to future purchases. Just submit feedback when you purchase a product or go to My Purchases for a list of your purchases. Click on the Leave Feedback button and leave a rating. Then go to your TPT credits to learn how to redeem credits for purchases!
Report this resource to TPT