Themed Therapy: Push-In Speech Therapy Lessons for Fall Season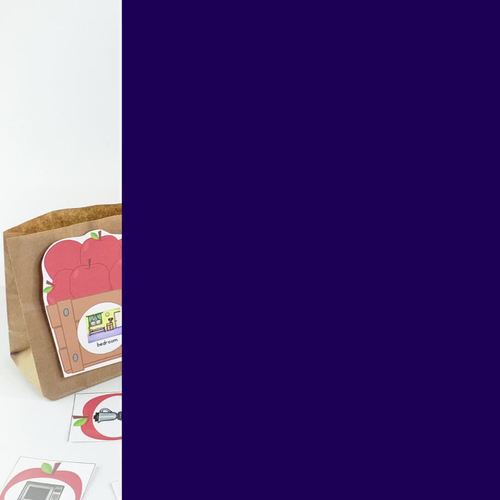 ;
What educators are saying
I really wanted to have themed lesson plans when going into the self contained classrooms but truly did not have the time to create something. This was fun, engaging for the kids, and easy to use.
This resource was my go-to this fall! Thanks for giving a variety of resources. My students enjoyed the similarity of resources (sorting) and the movement incorporated. Thanks for putting on sale!
Products in this Bundle (4)
Also included in
If you are a school-based SLP wanting to reduce stress by creating push-in speech therapy lesson plans for your Prek-2nd grade caseload, you need to invest in this themed therapy push-in speech therapy lesson plans that target a LOT of language skills. Lily wanted lesson plan speech therapy activiti

Price $83.20

Original Price $104.00

Save $20.80
Description
Are you a school-based SLP that works with K-2 students with language disorders? Do you like to go into the Special Education classroom to provide push-in speech therapy support? If you said, "yes" to these questions, then this Push-In Speech Therapy Language Lesson Plan Guide ⭐ BUNDLE⭐ will support the busy speech pathologist in the following ways:
❤️ Save time lesson planning
❤️ Increase student engagement during the lesson
❤️ Help the classroom teacher learn how to implement language during the academic school day
❤️ Target your student's goals
The language activities in this bundle include tips and tricks for how to do push-in speech therapy. There is also a cheat sheet guide with recommended books (links include YouTube videos or amazon) for each themed lesson. The cheat sheet lesson plan guide has links to the common core standards that the activities are targeting.

Each of the push-in lesson activity sets includes links to themed movement videos, and 3-5 extension activities to do at small group work stations.

Included in all of the push-in lessons are Google Slide presentations to use on a Smartboard or laptop. The Google Slide presentation includes language extension activities to work on wh-questions, vocabulary and grammar concepts.

Each push-in speech therapy lesson plan has a weekly newsletter with activity ideas, book recommendations & helpful videos that parents can use at home with his or her child to reinforce the vocabulary learned during the themed activities.

Not really able to push-in therapy, but love using themed-based language activities? SLPs can still use these Push-In Speech Therapy Fall Season BUNDLE in their small group sessions!

This is a BUNDLE. Right now when you purchase you receive the following PUSH-IN language sets at 10% off:

• Apple Themed Push-In Language Lesson Plan Guide
• Fall/Autumn PUSH-IN Language Lesson Plan Guide for SLPs
• Squirrel PUSH-IN Language Lesson Plan Guide
• Pumpkin PUSH-IN Language Lesson Plan Guide
Included in this resource:
⭐How to use these lessons in the classroom and/or in a small group.
⭐Tips and tricks for doing push-in speech & language support in the classroom.
⭐Blank lesson plan template (2 versions) to fill out before the push in thelesson. Fill out with the teacher if you have collaboration time. A digital copy is included on google slides to edit and share with the teacher.
⭐Letter home to parents/guardians about additional language activities to support the apple theme.
⭐Push-In Lesson Cheat Sheet for all the themes – A digital version is included in the google slides (fonts: KG Primary Penmanship).
⭐Cheat sheet instructions for instructional aides and teachers for all of the language extension activities
⭐3-5 language extension activities to do in small groups or to break up over 2-3 weeks of whole-class instruction. Each Fall-themed set has slightly varied activities. Please see the individual postings to see specific information about the language activities.
⭐Google slides: Included in this lesson plan is a digital google slide that works on answering wh-questions, targeted vocabulary and building the students understanding and use of grammar concepts.
Need more themed PUSH-IN language activities? Here are some more themes that will help you save time planning:

Pirate Themed PUSH-IN Language Lesson Plan Guides For SLPs
Beach Themed Push-In Language Lesson Guide
Camping Themed Push-In Language Lesson Plan Guide
Ice Cream Themed Push-In Language Lesson Plan Guide
Back To School Push-In Language Lesson Plan Guide
Spring Themed PUSH-IN Language Lesson Plan Guide
Summer Themed PUSH-IN Language Lesson Plan Guides
Winter Themed PUSH-IN Language Lesson Plan Guides

Fall Speech & Language Activities that make lesson planning quick and therapy fun!

• Fall Into Speech and Language MEGA BUNDLE
• Fall Craftivity For Speech & Language- I'm Nuts For Speech
• Fall Sensory Bin Companion For Speech & Language
• Fall Themed Vocabulary & Grammar Activities
**************Stay Connected With Me***********************
★BLOG ★NEWSLETTER ★FACEBOOK ★INSTAGRAM ★PINTEREST
If you have any questions, please email me at feliceclark@thedabblingspeechie.com
Report this resource to TPT
Standards
to see state-specific standards (only available in the US).
Prepare for and participate effectively in a range of conversations and collaborations with diverse partners, building on others' ideas and expressing their own clearly and persuasively.
Demonstrate command of the conventions of standard English grammar and usage when writing or speaking.
Demonstrate understanding of figurative language, word relationships, and nuances in word meanings.