Theory Masters: A Theory Curriculum Level 3 Print & Digital, Distance Learning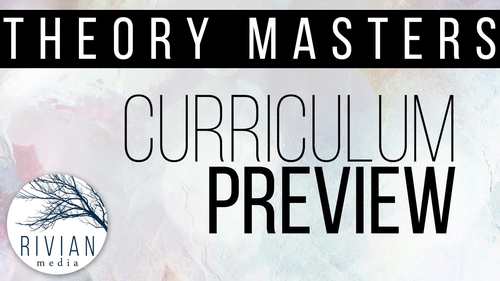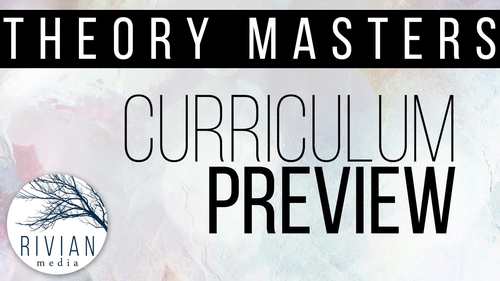 Created By
Rivian Media
Format
Zip
 (
8 MB
|
25 Lessons - PDFs & Google Slides
)
Also included in
These units contains 19-25 lessons at three different levels that introduce music theory to students. The collection starts at the basics and is flexible enough to move at whatever pace is needed for students to master the skills. These products come as a print version (PDFs) AND a fully digital G
Product Description
This unit contains 25 lessons that introduce music theory to students. The collection starts at the basics and is flexible enough to move at whatever pace is needed for students to master the skills. This product comes as a print version (PDFs) AND a fully digital Google Slides version. Music literacy made easy - no matter the situation!
This is the Level 3 of our unit and is geared towards middle school and high school aged students. Specific differences between the levels can be seen in the respective previews.
View
Level 1 (early elementary)
Level 2 (later elementary/early middle school)
This resource is perfect for:
✅ In Person Instruction for Middle School & High School General Music
✅ Virtual Distance Learning: Digital Google Slides Worksheets
✅ Send Home Print Packets for Distance Learning (guides & info ON the pages)
What's Included With Your Download:
➤ Each lesson contains a 2 page worksheet (PDFs & Google Slides Files). The first page can be completed as a class or individually, the 2nd page is considered "extra practice" for students to complete on their own. ** 1st 2 Rhythm Lessons do not have an extra practice worksheet.
➤ Links to MusicTheory.net custom made exercises for each Pitch lesson with steps on how to use these as homework!
➤ COMPLETE answer key for all lesson pages.
➤ 3 reviews, 3 quizzes, and a word wall for new terminology learned.
Pitch Lessons:
Musical Alphabet & Musical Staff
Clefs
Ledger Lines
Piano Keyboard
Half Steps & Whole Steps
Sharps & Flats
Enharmonics
Section 1 Review
Section 1 Test
Scales
Key Signatures
Intervals
Circle of Fifths
Section 2 Review
Section 2 Test
Rhythm Lessons:
Steady Beat
Tempo
Notes & Rests
Note & Rest Durations
Note Durations: Beams
Measures & Time Signatures
Rhythm Counting
Ties
Section 1 Review
Section 1 Test
Section 2 Coming Eventually!!
Throughout the year, our plan is to create video lessons to go along with each lesson so students can learn at home even more successfully. Be sure to connect with us on the ways listed below to get notifications for those!
You may also like:
➯ Music From a Distance: A Distance Learning Packet
➯ Music Cultures: A World Music Unit (Print & Digital)
-----------------------------------------------------
Be sure to follow our store to stay up to date with new products!  
Please leave feedback on our product(s) and earn credits towards your next purchase!
Check out other ways to connect with us!
Blog  |  Pinterest  |  Facebook  |  Newsletter  |  YouTube  |  Instagram
Copyright © Rivian Media
By purchasing/downloading this product, you are agreeing to our Terms of Use.
Violations are subject to the penalties of the Digital Millennium Copyright Act.
Total Pages
25 Lessons - PDFs & Google Slides
Report this Resource to TpT