There Was An Old Lady Who Swallowed Some Leaves Literacy Activities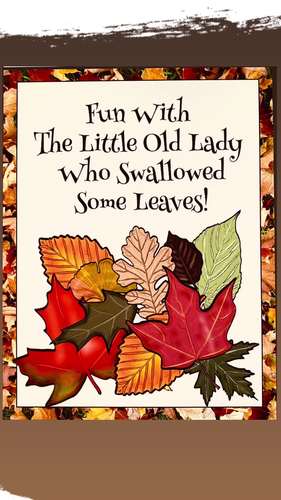 ;
What educators are saying
We used the sequencing activity as we read the book, and my kiddos were totally engaged! They were also able to retell the story using their old ladies! It was a great addition to the lesson.
Loved using this during distance learning, great visual for kids to help recall and sequence events.
Description
Here are some quick, easy & super-fun activities to go along with "There Was an Old Lady Who Swallowed Some Leaves!" by Lucille Colandro.
1. * A sequencing activity with a large, colorful old lady's head.
2. * An activity with a smaller, black & white old lady, where students color & cut the items that the old lady swallows. Children sequence, then glue the "picture tiles" to her tongue in chronological order.
3. * Since completed projects make a terrific bulletin board or hallway display, I've included a "Having Fun With the Little Old Lady" poster for some extra pizzazz.
A variety of versatile worksheets, which can be done as a whole group activity, used in a small reading group, or done individually.
The various options help you easily diversify your lessons.
Be sure & click the PREVIEW for lots of samples.
4. * I've also included colorful answer keys.
5. * A "Checking for Comprehension" worksheet, where students fill in the blanks using words from a word bank.
6. * An "Ordinal Number Fun" worksheet, where students label the pumpkin-head scarecrows "parts" with ordinal numbers.
7. * An "Ask Me a Question" worksheet.
8. * A "Let's Sequence The Little Old Lady Who Swallowed Some Leaves" worksheet.
9. * A "Here's What Happened" writing extension.
10. * For added value, there's a BONUS activity: "Show Me A Pattern" game/center, which uses the picture tiles.
As always, all patterns come in full-color so that teachers can quickly & easily make examples to share, as well as black & white for students to color.
Besides the full-page patterns, there are also 2-on-a-one page pattern options as well.
I'm Diane from Teach With Me, wishing you a fun-filled time.
Click here to see more Halloween activities.
Come join the fun on Facebook for my exclusive FREEBIES & Monthly Giveaways.
Check out my educational Pinterest boards.
Don't forget that all of my new products are 40% off for 48 hours.
Click this LINK to follow my shop & you'll be notified of these huge savings.
Report this resource to TPT