Time Signatures & Measures Music Theory Worksheets Tests Videos for Music Lesson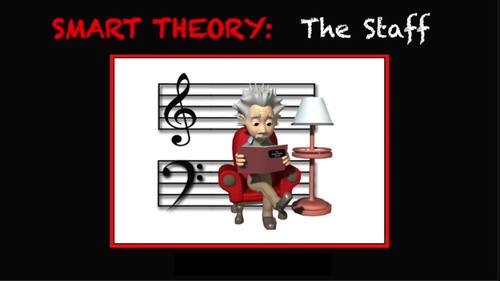 ;
12 Videos, 9 Reproducible Workbook Pages, Google & PDF Assessments
Products in this Bundle (4)
Also included in
Great for distance learning! Videos teach concepts and direct students to complete workbook pages. Convenient, easy to assign, complete with assessment for Google Apps.SMART THEORY THE STAFF complete resource includes:· 42 movie files - over 70 minutes of video!· Posters to help teach treble and b

Price $55.00

Original Price $95.75

Save $40.75
Description
Music Theory Time Signatures and Measures is a bundled resources that includes
♫ 9 Reproducible Activity Pages and assessment
♫ 12 Instructional Videos
♫ Teacher's Resource
♫ Links to Google Assessments
Music worksheets and Videos help students learn and review Time Signatures and Measures. Great Music activities to teach or review in your music lesson! Ideal for daily short mini lessons to ensure effective learning experiences and maximum retention of content. Perfect for use with a smartboard, computer or good old paper and pencil!
Enjoy these no-prep videos and music worksheets to help understand music theory in your elementary music or band lesson! An excellent way to introduce, reinforce learning, or for a quick and efficient review. The music worksheets, music videos and music activities work well as assessment activities or a quick sub plan. Add it to your sub tub or set up as a music center. These products are perfect for independent study, small group work or large class team engagement and will reinforce musical skills needed for reading music, singing and performing music, as well as completing assignments and other related worksheets. Perfect music activities for any time in the school year!
CONCEPTS COVERED: Measures, Top/Bottom Numbers, Beats in a Measure, Bar Lines, Strong Beats, Counting in 2/4, 3/4, 4/4, and 6/8, Matching.
RECOMMENDED FOR USE BY:
♫ General Music Classes for Grades 1-5 students
♫ Beginner Band Classes
♫ Music Specialists
♫ Perfect for the Substitute/Supply Teacher
♫ Piano and Studio Teachers
♫ Homeschool
♫ Teachers with Minimal Music Background
SALES & FREEBIES
Click HERE to be the first to see new products and FREEBIES and learn about upcoming sales!
FREE STORE CREDITS
Want to get Free store Credits? Click HERE to provide FEEDBACK!
♫ MUSIC FREEBIES
Smart Theory NOTE NAME POSTERS
LINES ON THE STAFF Music Theory FREEBIE with Video and Reproducible
BAG Recorder Fingering Boom Cards for Google Classroom TM
Rhythm Symbol Anchor Chart FREEBIE
♫ SEASONAL MUSIC FREEBIES
First Day of Music Photo Signs
Meet the Teacher Posters and Editable Invitation
Winter Treble Clef Staff Paper FREEBIE
Groundhog Day Color by Rhythm Symbols FREEBIE
♫ FOR THE MUSIC TEACHER:
Editable Meet the Teacher Open House Presentation
Editable Music Teacher Planner Binder with 478 pages
Editable Music Teacher Digital Planner 607 Slides
Editable Music Teacher Planner Teacher Binder BUNDLE 1085 Slides - FREE Updates for Life!
♫ BUNDLES
Nutcracker Music Worksheets Bundle (Treble & Bass Clef Note Naming)
Winter Bingo Bundle (30 Treble & 30 Bass Clef cards)
Winter Clip Card Bundle (Notes, Dynamics, Tempo, Rhythm Symbols)
MUSIC THEORY MEGA BUNDLE with Videos Reproducibles and Assessment - Complete Smart Theory Program!!
THE STAFF MUSIC THEORY BUNDLE with Videos Reproducibles and Assessment
MEASURES and TIME SIGNATURES THEORY BUNDLE with Videos Reproducibles and Quizzes
TREBLE and BASS CLEF NOTES THEORY BUNDLE with Videos Reproducibles and Quizzes
LINES and SPACES Music Theory Unit 1 (with videos and reproducibles)
PITCH Music Theory Unit 2 (with videos and reproducibles) 
TREBLE BASS AND GRAND STAFF Music Theory Unit 3 (with videos and reproducibles) 
STAFF REVIEW Music Theory Unit 4 (with videos, reproducibles and assessments) 
MEASURES Music Theory Unit 5 (with videos and reproducibles)
TIME SIGNATURES Music Theory Unit 6 (with videos and reproducibles)
TIME SIGNATURES Music Theory Unit 7 (with videos and reproducibles)
TIME SIGNATURE REVIEW Music Theory Unit 8 (with videos, reproducibles and assessments)
TREBLE CLEF Music Theory Unit 9 (with videos, reproducibles and assessments)
BASS CLEF Music Theory Unit 10 (with videos, reproducibles and assessments)
MUSIC THEORY ASSESSMENT PACKAGE - compiled reproducible activity pages in pdf format ( These activity pages are included in mini units 4, 8, 9, and 10.)
MUSIC THEORY ACTIVITY BOOK - compiled reproducible activity pages in pdf format ( These activity pages are included in the Smart Theory Mini Units.)
♫ BACK TO SCHOOL PRODUCTS YOU MIGHT LIKE:
Back to School Jive With a Gif
Music Rhythm Flashcards - 129 Printable cards, 10 levels
September Rhythm Flashcard Videos
September Note Name Worksheets
Back to School Rhythm Worksheets
Back to School Rhythm Bingo
Back to School Treble Clef Bingo
Pop Playalongs (Cha Cha Slide, Chicken Dance, YMCA, Limbo, Mexican Hat Dance, Hokey Pokey, Locomotion)
♫ POSTERS FOR YOUR CLASSROOM:
Student Helpers Classroom Decor Labels
♫ BACK TO SCHOOL MUSIC BOOM CARDS YOU MIGHT LIKE:
BTS Lines and Spaces Boom Cards
BTS Treble Clef Note Boom Cards
BTS Seek and Spy Rhythm Boom Cards
BTS 3 and 4 Note Spelling Boom Cards
BTS Instrument Family Boom Cards
BTS Counting Rhythms Level 1 Boom Cards
BTS Counting Rhythms Level 2 Boom Cards
BTS Treble and Bass Clef Boom Bingo
BTS Lines and Spaces Boom Bingo
BTS Rhythm Flashcard Boom Bingo
BTS Orchestra Instruments Boom Bingo
CATEGORIES: - band director, teaching band, music education, music ed, teaching theory, theory activities, theory worksheets, band worksheets, time signature worksheets, orchestra worksheets, choir worksheets, music worksheets, music activities, band videos, orchestra videos, choir videos, music videos, beginning band, beginning band worksheets, advanced band worksheets, music theory activities, music theory games, time signatures, band activities, orchestra activities, choir activities, music activities, instrumental music, elementary music, Back to School Music Theory Activities, Music Theory Worksheets, Time Signature Activities, Time Signature Music Activities, Back to School Music Worksheets, Back to School Music, Back to School Music Games, Time Signature Games, September Music Worksheets, fall music worksheets, winter music worksheets, winter music activities, back to school music lesson, time signature flashcards, time signature lessons
Total Pages
12 Videos, 9 Reproducible Workbook Pages, Google & PDF Assessments
Report this resource to TPT