Titanic Unit | Project Based Learning | Interactive Notebook | Inquiry | History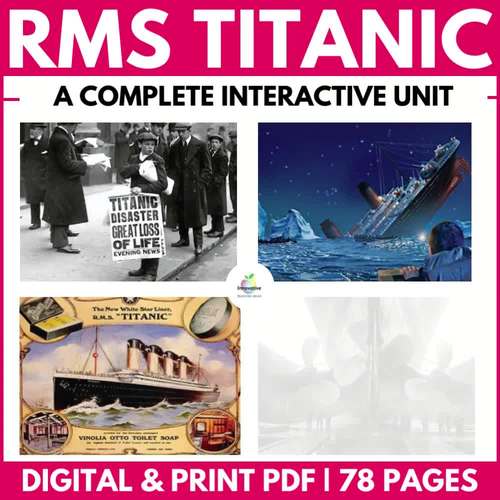 ;
Zip

Google Apps™
Includes Google Apps™
The Teacher-Author indicated this resource includes assets from Google Workspace (e.g. docs, slides, etc.).
What educators are saying
I am using this in a summer camp. My students love this. I am using it with nonfiction passages to help build schema.
I used this resource when we first went to online learning. It really helped me as I had not done anything like it before. I noticed it has been updated and can't wait to see the changes.
Also included in
This bundle provides students with project-based learning units allowing students to read, write, research and get creative about topics they are passionate about at a HEAVILY DISCOUNTED RATE These EDITABLE mini units of work are perfect for independent learning, homework or working with a relevant

Price $34.95

Original Price $53.34

Save $18.39
Description
This Complete DIGITAL INTERACTIVE NOTEBOOK on the RMS TITANIC offers a wealth of activities and resources for PROJECT-BASED LEARNING in HISTORY and ENGLISH that can run as an INDEPENDENT INQUIRY or a WHOLE-CLASS RESEARCH activity.
THIS 78-PAGE UNIT COVERS THESE ASPECTS.
⭐ The engineering marvels and extravagance of RMS Titanic
⭐ The Historical impact Titanic made in her time.
⭐ The Maritime Disaster of Titanic and its impact around the world.
⭐ Titanic is a timeless "Tale of Caution" that still fascinates us. Why?
⭐ The cultural impact of Titanic over a century after her sinking.
NO PREPARATION REQUIRED
COMPLETELY EDITABLE
OVER 100 5-STAR⭐⭐⭐⭐⭐ REVIEWS
Activities Include
✔ Digital Text Response Tasks
✔ Digital Titanic Timelines 
✔ Digital Fact Vs. Opinion
✔ Titanic research and reading response tasks
✔ Specific independent tasks for remote learning
✔ Specific group tasks for classroom instruction
✔ A whole new collection of media for research and appraisal.
✔ Digital Newspaper text / graphic organizers and templates
✔ Interactive Titanic video response task
✔ Titanic Passion Projects
✔ Key players in the story of Titanic
✔ Create your own Titanic Google Map task
✔ Podcast audio response tasks
✔ A variety of interactive Titanic Writing planners and templates
✔ Digital Titanic Biography Response Tasks
✔ Digital Data representation and graphing based upon Titanic
✔ A range of open-ended Titanic assessment tasks
✔ Digital Self assessment tools
➕ PLUS MUCH MORE ➕
TEACHERS LIKE YOU SAID THIS...
⭐⭐⭐⭐⭐ Christy C. Says... "I've been teaching the story "R.M.S. Titanic" and having my students do a four-part research project for over a decade, and I was looking for something to refresh my unit. This resource is a perfect fit!."
⭐⭐⭐⭐⭐ Pam Hargrove Says, "My students and I thoroughly enjoyed this unit. We used it in conjunction with Titanic Unsinkable Book One. I look forward to using it again this year."
⭐⭐⭐⭐⭐ Jessica Jarreau. says, "I am using this for both traditional and virtual learners. It has been a great addition to our Titanic unit. "
Completely rebuilt and improved for 2023! We listened to our customers and made an already excellent resource fresh. This 78 SLIDE DIGITAL INTERACTIVE NOTEBOOK is a unit of work on the world's most famous ship. The people, events, ingenuity, and oversights captured the world's imagination and then changed history forever.
It will engage your students through a vast collection of Editable Digital Graphic and Text Organizers, multimedia, resources and interactive tasks, all themed around Titanic.
YOU MIGHT ALSO❤️VE THESE ENGLISH RESOURCES
❤️ Year-Long Visual Writing Prompts Collection
❤️ News and Media Literacy Bundle
❤️ 125 Guided Reading Activities for ANY BOOK
❤️ 101 Digital Graphic Organizers
⭐Let's Connect
Innovative Teaching Ideas on YouTube
Innovative Teaching Ideas on Facebook
TERMS
Copyright © Innovative Teaching Ideas. All rights reserved by the author. This product is to be used by the original downloader only. Copying for more than one teacher, classroom, department, school, or school system is prohibited. This product may not be distributed or displayed digitally for public view. Failure to comply is a copyright infringement and a violation of the Digital Millennium Copyright Act (DMCA). Clipart and elements found in this PDF are copyrighted and cannot be extracted and used outside this file without permission or license. Intended for classroom and personal use ONLY. See the product file for clip art and font credits.
CUSTOMER TIPS:
How to get TPT credit to use on future purchases:
• Please go to your My Purchases page (you may need to
login). Beside each purchase, you'll see a Provide Feedback button. Simply click it, and you will be taken to a page where you can give a quick rating and leave a short comment on the product. Each time you give feedback, TPT gives you feedback credits to lower the cost of your future purchases. I value your feedback greatly as it helps me determine which products are most valuable for your classroom to create more for you. ☺
Answer Key
Included with rubric
Teaching Duration
1 month
Report this resource to TPT
Standards
to see state-specific standards (only available in the US).
Draw on information from multiple print or digital sources, demonstrating the ability to locate an answer to a question quickly or to solve a problem efficiently.
Integrate information from several texts on the same topic in order to write or speak about the subject knowledgeably.
By the end of the year, read and comprehend informational texts, including history/social studies, science, and technical texts, at the high end of the grades 4–5 text complexity band independently and proficiently.
Integrate information presented in different media or formats (e.g., visually, quantitatively) as well as in words to develop a coherent understanding of a topic or issue.
Trace and evaluate the argument and specific claims in a text, distinguishing claims that are supported by reasons and evidence from claims that are not.