TpT Seller Dashboard | Product Sales Analysis EXCEL Dashboard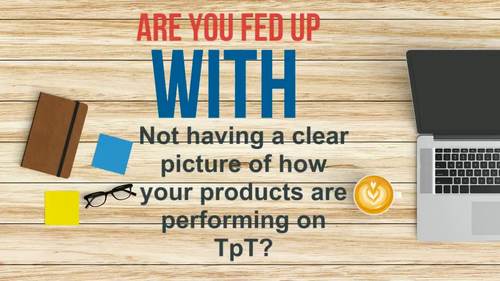 ;
Description
TpT Seller Dashboard is a gamechanger if you sell products on TpT! All of your sales ,earnings, licenses sold, commissions & fees, and tax data is neatly displayed in a dashboard that allows you to filter by year, quarter, month, product, and school purchase order. You can even select any combination of these which means the possibilities are almost endless!
TpT Seller Dashboard uses your sales transactions from TpT Marketplace and it's literally copy and paste easy! There is no limit on the number of transactions so if you've been on TpT for years, you now have the ability to view and manage the financial performance of your products as never before!
TpT's Online Reports display only 1 piece of information at a time and you can only compare the current year with last year's numbers. TpT Seller Dashboard Displays 4 Graphs and a Sales Analysis Report for an unlimited number of years!
What information does TpT Seller Dashboard display? All of these items can be filtered by Year(s), Quarter(s), Month(s), by Product ID, by Individual Product, or if purchased with a School Purchase Order
Total Store Sales
Total Store Earnings
Total Number of Products Sold for Store
Tax Information for Store
Total Sales of Individual Products
Total Sales by Product IDs
Total Earnings of Individual Products
Total Earnings by Product IDs
Total Monthly Sales
Top 10 Total Sales by Product ID
Top 10 Earnings by Product ID
Top 10 Sales by State
Sales Analysis showing: Sales, TpT Commission, Transaction Fees, Earnings, Number of Licenses Sold, Average Earnings per License, Total Sales Tax TpT Remits, Total Sales Tax Seller Remits
Compare the Sales & Earnings for an individual product over the entire life of the product.
Compare "Back to School" or other sales campaigns over multiple years to determine the effectiveness of your efforts.
Analyze product monthly sales to determine when your customers are buying and when you need to focus your marketing efforts.
Analyze what geographic area(s) your sales are coming from to help focus your marketing effort. In other words, if the bulk of your sales are coming from the West Coast region, you would want to take that into consideration when scheduling social media posts.
Comparing product earnings per license over time can be helpful in developing a pricing strategy.
What are some other questions TpT Seller Dashboard can answer?
Which products are being purchases with a School Purchase Order?
Which product(s) caused a spike in my sales?
How much sales tax was collected on sales of products?
How many products did I sell in August of last year versus this year?
Which products are selling better during "Back to School" month?
And more…
*Requires Microsoft EXCEL 2013 or newer version
Click the Green ★ to follow our store and get notifications of freebies and new products!
Leave feedback to receive TpT credit for use on future purchases.
Questions? Please contact us in the Product Q&A Section.
All rights reserved by STEM Printables
This product is intended for use by the original purchaser only.
Sharing this product with others, distributing via any means, or posting online is strictly prohibited.
Failure to comply is a copyright infringement and a violation of the Digital Millennium Copyright Act (DMCA). Clipart and elements found in this PDF are copyrighted and cannot be extracted and used outside of this file without permission or license.
Report this resource to TPT