Tracing & Evaluating Arguments - Passages & Comprehension Questions for RI.6.8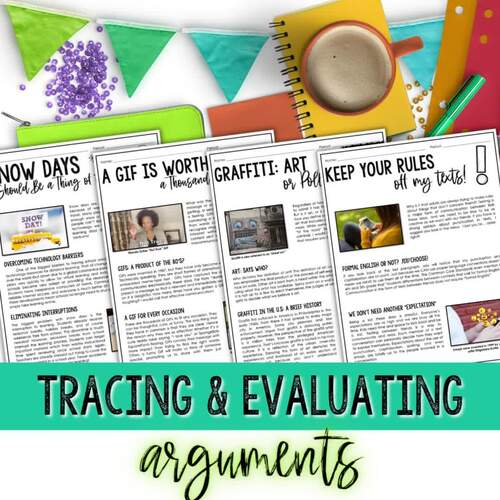 ;
Zip

Google Apps™
Includes Google Apps™
The Teacher-Author indicated this resource includes assets from Google Workspace (e.g. docs, slides, etc.).
What educators are saying
This resources included wonderful and engaging articles for students to read and practice their informational text skills.
Used these passages as sub plans and they worked perfectly. The topics are engaging and fun, and kept students hooked!
Also included in
While middle school students might be naturals at arguing, teaching them how to read and understand argumentative texts is a different story! With this reading toolkit for informational standard 6.8, you'll get access to several mini-lessons and activities that break down the elements of an argument

Price $16.79

Original Price $20.49

Save $3.70

If coming up with thorough & engaging units for the four major genres of literature has ever made you feel frustrated, overwhelmed, or even unsure, I made this bundle of ELA mini units for you. This HUGE BUNDLE is your complete kit for teaching the elements of literature this year!CHECK OUT THE

Price $74.99

Original Price $112.62

Save $37.63
Description
If you're wondering how to help your students tackle standard RI.6.8, look no further. These high-interest argumentative texts will help your students feel confident tracing and evaluating arguments in no time. The engaging and relevant topics combined with scaffolded questions will help your students become well-prepared to analyze (& draft) arguments!
✔ Check out the PREVIEW for more information!
Students are likely to encounter argumentative texts more often than any other type of text in the real world! Teaching students to identify an author's claim and evaluate the evidence and reasoning is a critical life skill.
✎ With these argumentative texts, your students will get the "just right" amount of intentional practice with topics they are familiar with and interested in.
Argumentative Texts Include:
Graffiti: Art or Pollution?
A GIF is Worth a Thousand Words
Keep Your Punctuation Off My Texts!
Snow Days Should Be a Thing of the Past
The passages come with an audio file and a set of standards-aligned questions designed to provide opportunities for students to identify the author's claim, evaluate the reasons and evidence used, and evaluate the effectiveness of each argument. (RI.6.8)
Each Passage is:
500-800 words in length
800-1000 Lexile Level
Common Core Standards-Based
Printable & Digital
Use these argumentative texts to give your students additional practice tracing and evaluating arguments in your regular ELA class, remedial reading class, or small groups as a station activity! They also make a great low-prep sub plan for you and your sub!
_______________________________________
TEACHERS LIKE YOU SAID…
⭐️⭐️⭐️⭐️⭐️ Brown Girl Teaching said, "This was an easy, quick review source that allowed me to see where students were and work with the quickly to clear up misunderstandings about sound reasoning in argument."
⭐️⭐️⭐️⭐️⭐️ Amy said, "Great passages for students to use to evaluate arguments. This was an enjoyable resource to use with my students. Thanks!"
⭐️⭐️⭐️⭐️⭐️ LiterallyLiteracy in the Middle said, "Used these passages as sub plans and they worked perfectly. The topics are engaging and fun, and kept students hooked!"
_______________________________________
Supports Common Core Standards (CCSS):
RI.5.1, RI.5.8
RI.6.1, RI.6.8
RI.7.1, RI.7.8
_______________________________________
You might also like these argument mini-lessons:
OR, ⭐️ Bundle & save for a discount ⭐️
Purchase the to get this activity, plus the mini-lessons listed above! 
Have a question?
Please check out the Q & A section or email me at info@heynatayle.com.com. I'll get back to you within 24 hours.
Don't forget to leave feedback! I love to hear what my buyers say, how the product worked for them, and any feedback I can use to improve my product! (It also earns you points towards future TPT Purchases)
✔️ Follow me to be notified when I've posted new products. New products are always 50% off for the first 48 hours!
✔️ Subscribe to my NEWSLETTER for tips, ideas, and activities that make teaching middle school ELA feel engaging and purposeful.
Thanks so much,
Natayle Brown
___________________________________
Copyright © Hey Natayle.
Permission to copy for single classroom use only.
Please purchase additional licenses if you intend to share this product.
Report this resource to TPT
Standards
to see state-specific standards (only available in the US).
Quote accurately from a text when explaining what the text says explicitly and when drawing inferences from the text.
Explain how an author uses reasons and evidence to support particular points in a text, identifying which reasons and evidence support which point(s).
Cite textual evidence to support analysis of what the text says explicitly as well as inferences drawn from the text.
Trace and evaluate the argument and specific claims in a text, distinguishing claims that are supported by reasons and evidence from claims that are not.
Cite several pieces of textual evidence to support analysis of what the text says explicitly as well as inferences drawn from the text.