Tracing & Evaluating Arguments - Smash, Boom, Best Podcast Study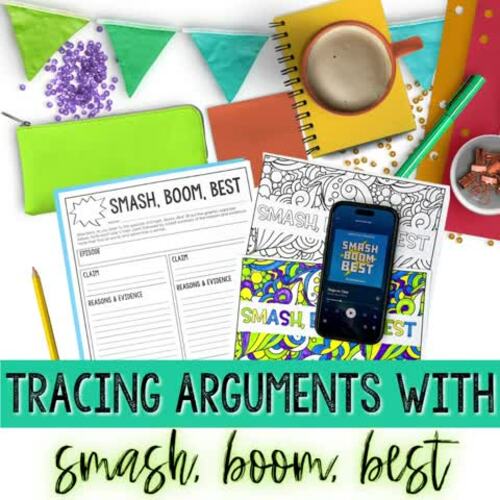 ;
PDF

Google Apps™
Includes Google Apps™
The Teacher-Author indicated this resource includes assets from Google Workspace (e.g. docs, slides, etc.).
What educators are saying
I love using this when I don't know what else to do! My students love the topics they discuss on podcast and the assignment is easily understood and aligned with standards.
This resource is a masterpiece! We've moved into another unit that focuses on literature, and my students are STILL asking to work on podcasts during their down time! We all need this!
Also included in
While middle school students might be naturals at arguing, teaching them how to read and understand argumentative texts is a different story! With this reading toolkit for informational standard 6.8, you'll get access to several mini-lessons and activities that break down the elements of an argument

Price $16.79

Original Price $20.49

Save $3.70

If coming up with thorough & engaging units for the four major genres of literature has ever made you feel frustrated, overwhelmed, or even unsure, I made this bundle of ELA mini units for you. This HUGE BUNDLE is your complete kit for teaching the elements of literature this year!CHECK OUT THE

Price $74.99

Original Price $112.62

Save $37.63
Description
Do your students struggle with tracing and evaluating arguments?  You'll LOVE this engaging solution! Students will become pros at identifying and evaluating claims, evidence, and reasoning using the podcast Smash Boom -- along with these paired listening sheets! Not only are the episodes incredibly engaging to kids, but they also offer the perfect opportunity to trace and analyze arguments. 
✔ Check out the preview for a closer look!
This Smash, Boom, Best podcast study is best to use shortly after introducing your students to the basics of an argument. It provides scaffolded practice many of our students need when tracing and evaluating arguments – before they jump into a complex text!
► What's Included:
Doodle-Style Listening Booklet (5 different styles)
Single Page Recording Sheet
Google Slides Version
… templates that you can use again, and again, and again!
► Here's the Smash Boom scoop: Smash, Boom, Best is an engaging podcast series in which two cool things are smashed together and debated. Episodes range from 20-30 minutes, and opponents go head-to-head. Each side clearly presents a claim and backs it with a wealth of reasons and evidence.
So how do you use it in your argument unit? By pairing it with standards-based questions!
This Smash, Boom podcast study requires students to stop and jot down each argument's:
Main Claim
Reasons
Evidence
Once both sides have presented their arguments, students will determine a winner. Afterward, students are encouraged to reflect on each argument presented and evaluate the reasoning and evidence.
✎ This lesson provides an excellent way of bridging the gap between introducing a claim, evidence, and reasoning and following it through an informational text.
Use this podcast study to give your students guided practice tracing an argument in your regular ELA class, remedial reading class, or small groups as a station activity! It also makes a great low-prep sub plan for both you and your substitute teacher!
_______________________________________
TEACHERS LIKE YOU SAID…
⭐️⭐️⭐️⭐️⭐️ Miss Fela said, "I had never heard of this podcast, but I absolutely LOVED this resource! We listened to dogs vs. cats, mainly because it was the shortest one I could find that would be interesting to my students. I look forward to using it more when we make it to our argumentative unit."
⭐️⭐️⭐️⭐️⭐️ Larissa said, "This was an amazing resource. I used it to analyze the podcast (we did the pizza vs tacos episode), and then as we went, we spoke about how our opinions changed. Then I added a debate project where students emulated the podcast, picking an item or idea that meant a lot to them and presented why it was better than their partners. This covered my media literacy, oral communication, writing, and a bunch of learning skills for their report card. It was PERFECT. Thank you."
⭐️⭐️⭐️⭐️⭐️ On the Hunt said, "A great resource for pairing with Smash Boom Best.  Love it!"
_______________________________________
Supports Common Core Standards (CCSS):
RI.5.1, RI.5.8
RI.6.1, RI.6.8
RI.7.1, RI.7.8
_______________________________________
You might also like these argument mini-lessons:
OR, ⭐️ Bundle & save for a discount ⭐️
Purchase the for this activity, plus the mini-lessons listed above! 
Have a question?
Please check out the Q & A section or email me at info@heynatayle.com.com. I'll get back to you within 24 hours.
Remember to leave me feedback! I love to hear what my buyers say, how the product worked for them, and any feedback I can use to improve my product! (It also earns you points towards future TPT Purchases)
✔️ Follow me to be notified when I've posted new products. New products are always 50% off for the first 48 hours!
✔️ Subscribe to my NEWSLETTER for tips, ideas, and activities that make teaching middle school ELA feel engaging and purposeful.
Thanks so much,
Natayle Brown
___________________________________
Copyright © Hey Natayle.
Permission to copy for single classroom use only.
Please purchase additional licenses if you intend to share this product.
Report this resource to TPT
Standards
to see state-specific standards (only available in the US).
Quote accurately from a text when explaining what the text says explicitly and when drawing inferences from the text.
Explain how an author uses reasons and evidence to support particular points in a text, identifying which reasons and evidence support which point(s).
Cite textual evidence to support analysis of what the text says explicitly as well as inferences drawn from the text.
Trace and evaluate the argument and specific claims in a text, distinguishing claims that are supported by reasons and evidence from claims that are not.
Cite several pieces of textual evidence to support analysis of what the text says explicitly as well as inferences drawn from the text.